Pensacola Realty Masters Blog
Realty Masters is happy to present the following Pensacola area community and Pensacola real estate information!
Alternatives to hiding a key under a doormat
05-15-2019
Rebekah
Tenant Education
04-22-2022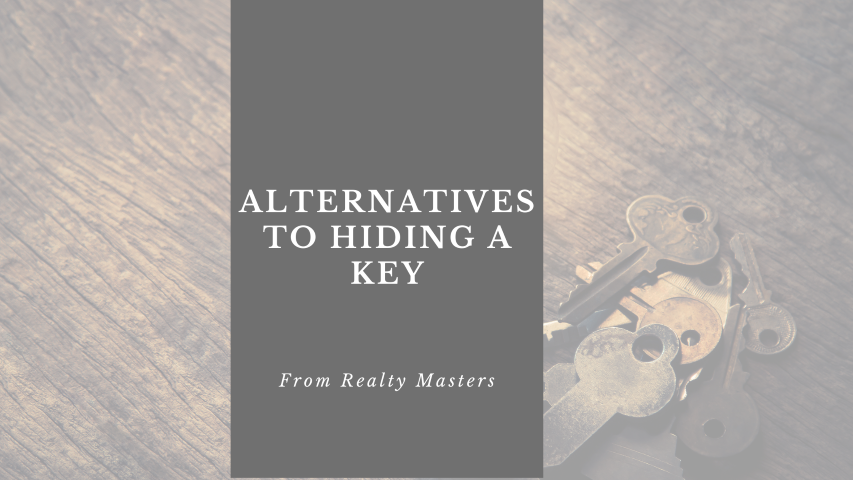 Keeping your family and property safe is imperative. Too often, especially around the holidays, residents leave keys for friends and family members carelessly around their property. DON'T hide a key outside your home, under mats or above your door frame on the outside of your home! These are the first places someone will look.
Here are some alternatives to hiding a key under your door mat.
Get an envelope or pouch to put the key in and keep it in your car.

If you have a neighbor you trust or a friend/family member that lives close, have them hang on to it.

A lockbox with a combination code is easy to use and you can put on almost any type of rail or knob outside. We use a lot of these in real estate to make sure keys are kept safe.
If you have no choice but to hide a key outside your home, make sure you're clever and choose an object like a fake sprinkler head or a walkway lights. Make sure this is a temporary hiding spot and never permanently leave a key outside of your home.
Write the location of your spare keys some place safe like a sticky note in your phone. You can also set a reminder to confirm the keys are still in place at least once a week. Losing track of your keys leaves you open to someone else finding them and getting into your home.
originally posted 12-27-2018
Safety Tips & Crime Prevention from the Escambia County Sheriff's Office
05-15-2019
Nicole St. Aubin
Community
05-03-2022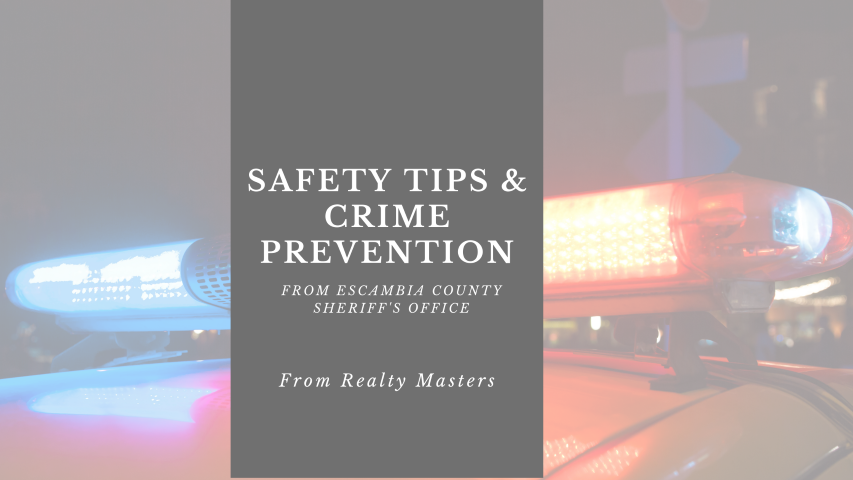 Recently, I had the pleasure of listening to Deputy Howard Enderson with the Escambia County Sheriff's Office Crime Prevention Unit give a talk to the Pensacola Association of Realtors on safety.
A lot of the advice he gave us is applicable to safety for all at your home and business and I wanted to pass along my favorite tips from the crime prevention unit.
Have a free security assessment of your property and home for specific recommendations on how to make your home safer.

Survey your property and look for places that people can hide. Eliminate those places!

Use the 2/6 rule- shrubs should be no higher than 2 feet and tree limbs should be no lower than 6 feet.

Do not let shrubbery grow above or over your windows.

Never hide a key at your property.

Always lock your vehicle and do not leave garage door openers in your vehicle overnight.

Did you know that you can have a background check done for a small fee at the Sheriff's Office in one day? Before hiring someone to come pet sit, clean your house, or babysit your children, use this service and order a background check.

Don't open the door for solicitors. Additionally, you can call the Sheriff's Office to report door to door solicitors.

Make sure everything is password protected.

Choose flight over fight but protect yourself if necessary.

Always be alert and listen to your instincts!
Did you know that the Escambia County Sheriff's Office offers free security assessments of your home, business, or church? They will come in the residence and offer tips to increase security at your property. To request a security assessment of your property, do so at this website: http://www.escambiaso.com/security-surveys/residential-security-survey/
The Escambia County Sheriff's Office also offers training including sepcial programs like the Neighborhood Watch and the Citizen Law Enforcement Academy.
For additional security tips from the Escambia County Sheriff's office, visit this page: http://www.escambiaso.com/home-safety/
originally posted 08-08-2018
Tenant Education
Pensacola Real Estate
Owner Education
Community
Pensacola Community
Real Estate Market
Military PCS Move to Pensacola
New Construction Builders in Pensacola
Considerations when Purchasing a Pensacola Multifamily investment
What Makes a Good Pensacola Investment Property
Buy and Hold Investment Strategy
Nicole St. Aubin
Lindsay
Pam Keen
Nicole
Nicole St Aubin
Erica Parker
Michelle
Mike Hamby
David Keen
Realty Masters
Rebekah
Carlin
Mitch Adcox