Pensacola Realty Masters Blog
Realty Masters is happy to present the following Pensacola area community and Pensacola real estate information!
Pensacola Community Resources for Homeowners
04-22-2022
Nicole St Aubin
Pensacola Community
04-22-2022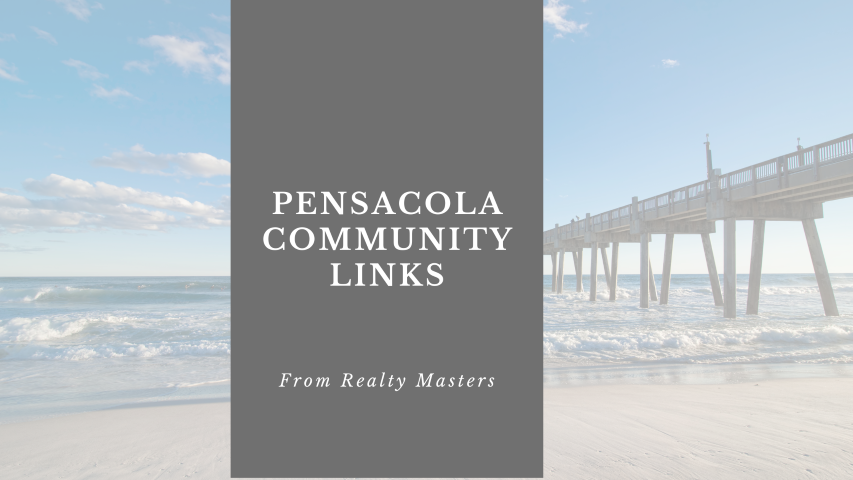 New to the Pensacola area or not sure where to go for Pensacola area information? We've compiled a list of Pensacola area resources for homeowners to assist with finding solutions to common questions and situations in our community. From a lost dog to a gas leak, the links below will help you. Reach out to the resources below for more information.
Escambia County Resources
1
Maintains the County's network of roads and storm water drainage system 850-595-3738
2
Dispatch for non emergency calls 850-436-9620
3
Building Inspections 850-595-3550
4
Enforces & Investigates code violations in Escambia Co. 850-595-1820
5
Office of Engineering & Construction Oversight 850-595-3440
6
Mosquito Control Dedicated to protecting the public health 850-937-2188
7
Stormwater Management 850-554-2906
8
Transportation Programming and Traffic Operations 850-595-3404
9
Chris Jones Property Appraiser 850-434-2735
10
Have a project in mind? 850-595-3550, 850-587-5770
11
Have a complaint or animal emergency? 850-595-0097
12
Neighbors Dog barking?
14
Waste, recycling, and yard trash to residential properties 850-476-0480
15
Escambia County Online Record Search
16
Elected Officials for Escambia County
17
Escambia County emergency gas leak 850-474-5300
18
All the information you need on Schools, School calendars, and even employment information.
19
Code of Ordinances of Escambia County
20
Need to report a non-emergency issue or request service from the City of Pensacola?
21
Obtain information on local property taxes
Santa Rosa County Resources
22
Santa Rosa County Planning & Zoning 850-981-7088
23
Enforces the land development code & other ordinances adopted by the board of county commissioners.
24
SRC Emergency Management events & Announcements 850-983-5360
25
Mosquitos bugging you? Call 850-981-7135
26
Santa Rosa County Property Appraiser 850-983-1880
27
Public Works for Roads and Bridges 850-626-0191
28
Citizen Work Order Requests for trash pick up, potholes, etc 850-983-1877
29
Santa Rosa County trash pick up and information 850-476-0480
30
Official website of the Santa Rosa County Tax Collector 850-983-1800
31
Call 983-5400 after hours for non-emergencies or 850-983-5401 during business hours.
32
Santa Rosa County District Schools 850-983-5150
33
Santa Rosa County Elected Officials 850-983-1900
Wildlife And Other Resources
34
Florida Fish & Wildlife Bear News 850-488-4676
35
Florida Fish & Wildlife Alligator News 850-488-4676
36
Official Records Search
37
Report or view power outages 1-800-487-6937
Tenant Education
Pensacola Real Estate
Owner Education
Community
Pensacola Community
Real Estate Market
Military PCS Move to Pensacola
New Construction Builders in Pensacola
Considerations when Purchasing a Pensacola Multifamily investment
What Makes a Good Pensacola Investment Property
Buy and Hold Investment Strategy
Nicole St. Aubin
Lindsay
Pam Keen
Nicole
Nicole St Aubin
Erica Parker
Michelle
Mike Hamby
David Keen
Realty Masters
Rebekah
Carlin
Mitch Adcox