Pensacola Realty Masters Blog
Realty Masters is happy to present the following Pensacola area community and Pensacola real estate information!
Hurricane Preparedness Tips
06-30-2021
Nicole St. Aubin
Tenant Education
04-18-2022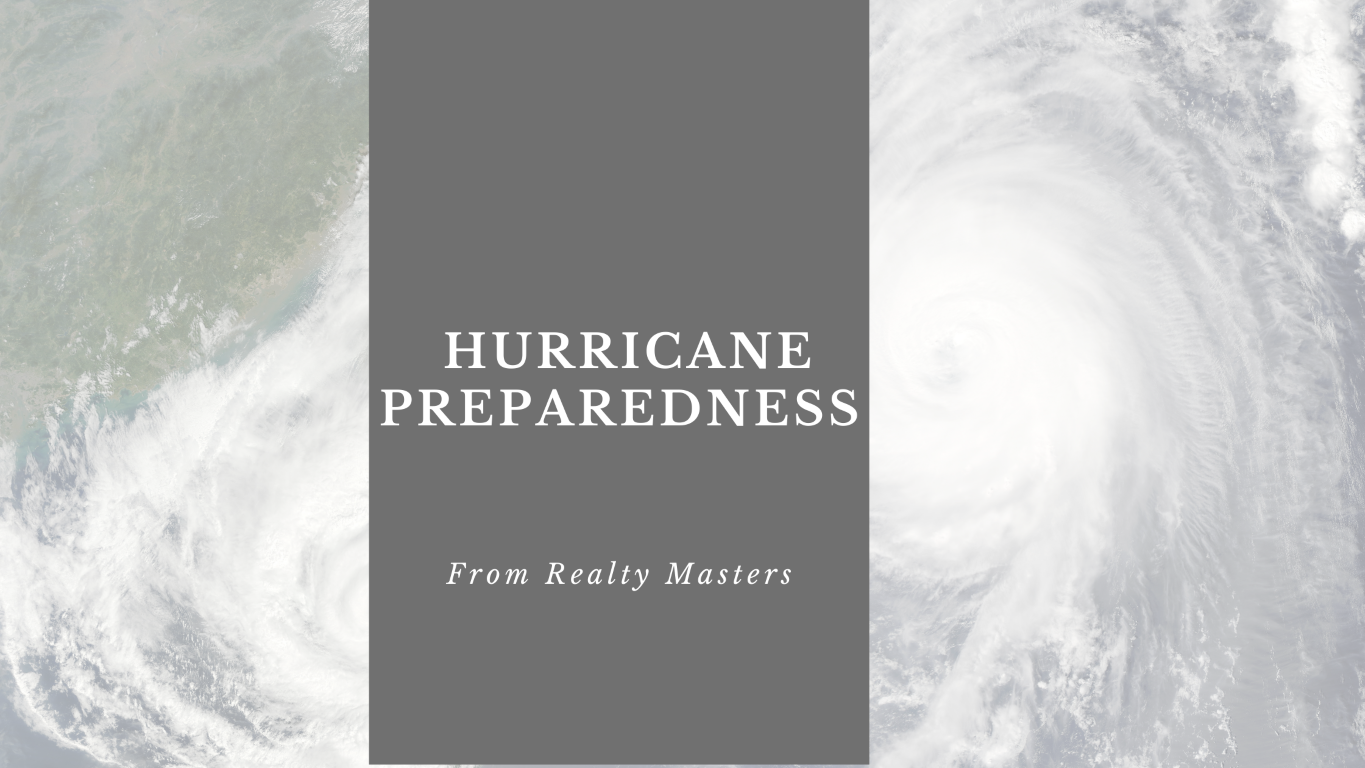 If you have been watching the weather reports lately you probably know that we have already had the first named storm this year. Back in May, the National Hurricane Center had a preparedness week so if we are to get a hurricane we will be prepared. Did you prepare? Here's a list of ways you can do so now.
Determine your Risk- use the time now before there is a threat to learn your flood zone and evacuation zone so if a storm comes you will have plenty of time to make an educated decision to stay or leave. https://myescambia.com/apps/knowyourzone/
You can also check out flood risk zones on this map: https://floodfactor.com/
Develop an Evacuation Plan- If a storm comes and you will need to evacuate, it's best to have a few plans in place on where you will go. Depending on the storm, you might want to stay with locals that might be in a safer area. Consider your family or friend's homes. Another very important thing to consider is your pets! If you have pets it is a good idea to go ahead and research hotels that you can go to so you can take your pets with you. If you have to evacuate, do not leave your pets behind.
Assemble Disaster Supplies- Even if you made a kit last year it is always a good idea to take it out and ensure your supplies are still in working condition. If you do not know what to pack into your kit check out this helpful link: https://flash.org/peril_inside.php?id=84
The home - This is a great opportunity to go around the home and see if there are any limbs that need to be cut away from the home or any dead trees that might become a hazard. If you have patio furniture or lawn items remember that they will need to be able to be safely stored during a storm so plan on where you would put those items.
Complete a Written Plan - Having a written plan can be very helpful when you are under stress so you will not forget. Let someone that is not in the impact area know what your plan is.
Remember, Hurricane Season runs from June 1st through November 30th with the majority of severe storms in August and September. It's never to late to prepare.
Tenant Education
Pensacola Real Estate
Owner Education
Community
Pensacola Community
Real Estate Market
Military PCS Move to Pensacola
New Construction Builders in Pensacola
Considerations when Purchasing a Pensacola Multifamily investment
What Makes a Good Pensacola Investment Property
Buy and Hold Investment Strategy
Nicole St. Aubin
Lindsay
Pam Keen
Nicole
Nicole St Aubin
Erica Parker
Michelle
Mike Hamby
David Keen
Realty Masters
Rebekah
Carlin
Mitch Adcox