Pensacola Realty Masters Blog
Realty Masters is happy to present the following Pensacola area community and Pensacola real estate information!
U.S. Navy Blue Angels 2019 Schedule in Pensacola, Florida
05-15-2019
Nicole St. Aubin
Community
05-03-2022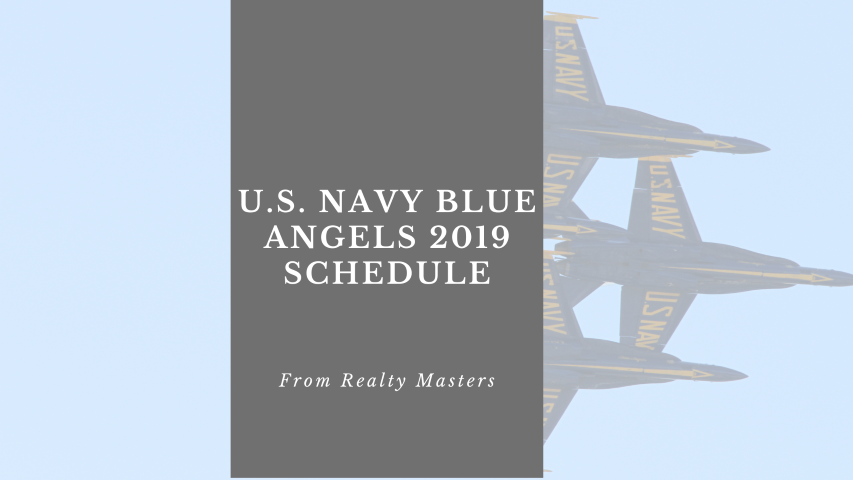 The U.S. Navy Blue Angels just released their 2019 practice schedule! As the Blue Angels are local hometown heroes, we wanted to bring you the information on how you can catch a practice show here in the Pensacola, Florida area.
U.S. Navy Blue Angels 2019 Practice Schedule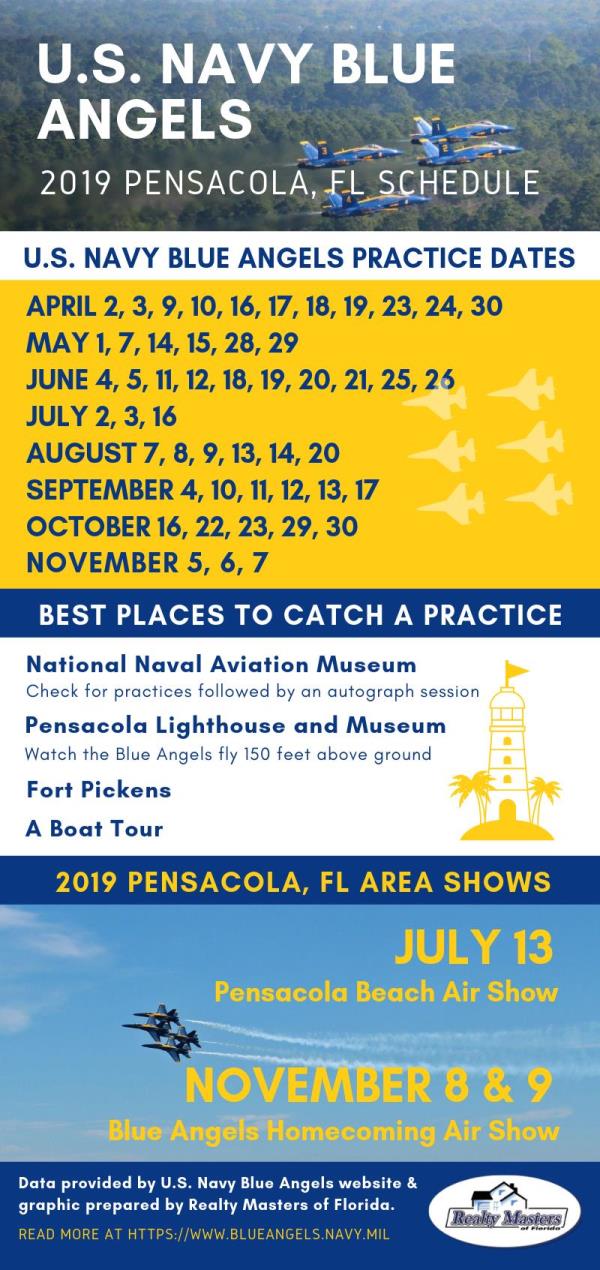 Practices are at 11:30 each day. The 2019 practice schedule is subject to change on short notice due to weather so be sure to visit the U.S. Navy Blue Angels to confirm.
2019 Pensacola Blue Angels Show Dates
Pensacola Beach Air Show July 13, 2019
Be sure to check the calendar with events all this week at Pensacola Beach leading up to the air show including Breakfast with the Blues and the practice show the day prior!
Blue Angels Homecoming Air Show at Pensacola Naval Air Station November 8 & 9, 2019
Our favorite places to catch a U.S. Navy Blue Angels practice show are:
Naval Aviation Musem has the best view and offers autographs on certain days

Pensacola Lighthouse and Museum from 150 feet in the air

Fort Pickens

One of the many boat tours offered for both practices and shows. Check with Key Sailing, Pensacola Island Tours with Klein Aquatics, Condor Sailing or on google for more recommendations!
For more information on the best ways to enjoy a Blue Angels practice show, visit:
Pensacola loves you Blue Angels!
originally posted 02-08-2019
Pensacola area Zip Codes explained
05-15-2019
Nicole St. Aubin
Community
05-03-2022
Moving to the Pensacola area?
It's hard to get a good feel of a new community.
If you are moving to Pensacola, knowing and understanding Pensacola area zip codes will definitely help you with your move. Pensacola is located in Escambia County, Florida and includes the following areas of Perdido Key, Pensacola Beach, Cantonment, Beulah, Century and Molino.
Here's a quick infographic and rundown on Pensacola area zip codes to help you familiarize yourself with the Pensacola area.

Pensacola Zip Codes
32501 & 32502- Downtown Pensacola!
Home to Historic Downtown Pensacola, the 17th Ave. Grafitti Bridge, Belmont/ DeVilliers, Pensacola Bay Center, Blue Wahoos Baseball Stadium, Historic Pensacola Village, Veterans' Wall South Memorial and more!
32503- Southeast Pensacola
Home to East Hill and East Pensacola Heights Neighborhoods, Bayview Park & Dog Beach, Scenic Highway Bluffs, Pensacola Christian Academy and Pensacola Christian College, 12th Ave. Tree Tunnel
32504- Northeast Pensacola
Home to Cordova Park Neighborhood, Pensacola State College, Cordova Mall, Pensacola International Airport, Sacred Heart Hospital
32505- South & West Pensacola
Home to Brownsville Neighborhood, Marcus Point Golf Course, T&W Flea Market, Car City Pensacola
32506- West & Southwest Pensacola
Home to Pensacola Greyhound Racing, FL/ AL State Line via Lillian Hwy, Corry Station
32507- Southwest Pensacola & Perdido Key
Home to front and back gate of Naval Air Station, Perdido Kids Park, Big Lagoon State Park, Johnsons Beach, and Perdido Key
32514- Northeast Pensacola
Home to University of West Florida, I-10 Interstate 10, Elylson Indsutrial Field, and the gateway to Santa Rosa County via the bridge to Pace
32526- Northwest Pensacola
Home to Beulah and Bellview Neighborhoods, Navy Federal Credit Union, Pensacola Fairgrounds, Pensacola Equestrian Center
32533 & 32534- Cantonment and North Northwest Pensacola
Home to Ascend Performance Materials, International Paper, and I-65
32561- Pensacola Beach
Home of beautiful, white sand Pensacola Beaches!
Moving to the Pensacola area?
Let us know how we can help you with your move. Realty Masters has over 35 rentals available in the Pensacola area at any given time. Give us a call or view our available rentals here.
originally posted 01-29-2018
Tenant Education
Pensacola Real Estate
Owner Education
Community
Pensacola Community
Real Estate Market
Military PCS Move to Pensacola
New Construction Builders in Pensacola
Considerations when Purchasing a Pensacola Multifamily investment
What Makes a Good Pensacola Investment Property
Buy and Hold Investment Strategy
Nicole St. Aubin
Lindsay
Pam Keen
Nicole
Nicole St Aubin
Erica Parker
Michelle
Mike Hamby
David Keen
Realty Masters
Rebekah
Carlin
Mitch Adcox