Pensacola Realty Masters Blog
Realty Masters is happy to present the following Pensacola area community and Pensacola real estate information!
New Construction Homes in Pensacola and Surrounding Areas
05-09-2019
Pam Keen Brantley
New Construction
09-10-2019
originally posted 05-17-2016
Get started Designing/Customizing your new construction home now
According to Trulia, twice as many people would rather live in a new construction home rather than an existing home! What's better than being the first family to live under a new roof and being the first ones to use everything in the home!? Take advantage of the opportunity to find newly constructed homes at reasonable prices. Nothing beats the feeling of a new home.
New construction in the Panhandle area has been growing at a rapid pace. There was a total of 1,263 new construction properties built in 2015. We are on track to double the amount of new construction properties built 2015. So far in 2016, there have already been 634 new construction properties built in Pensacola and the surrounding areas. Now is the time to look to owning the new home you always dreamed of.
The table below shows the # of new construction properties built in Pensacola and surrounding areas.
| | |
| --- | --- |
| Area: | Number of Homes Built: |
| Pensacola | 146 |
| Beulah and Cantonment | 71 |
| Pace | 156 |
| Milton | 132 |
| Navarre | 53 |
| Gulf Breeze | 57 |
New Construction homes are my passion. I am excited to help new home buyers go through all the options to choose from. I look forward to working with you and can not wait to see you in your brand new home!
Mitch Adcox, Realtor (210) 232-5791 cell / (850) 473-3983 office
Mitch@PensacolaRealtyMasters.com
New Construction Homes in Greater Pensacola area
05-09-2019
Nicole St. Aubin
New Construction
07-16-2019
originally posted 05-12-2016
Pensacola Real Estate New Construction Homes Infographic
A snapshot showing 2016 New Construction homes in the Pensacola area.
In recent years, distressed inventory represented a significant portion of the Pensacola area rental market and new construction was minimal. That has officially changed!
Distressed homes, including short sale and foreclosed homes, currently represent about 7% of the active homes for sale in Escambia and Santa Rosa Counties while new construction homes for sale now represent approximately 18% of the sales market.
What's better than a brand new home? Here's a fun infographic breaking down the new construction being built in the Greater Pensacola area!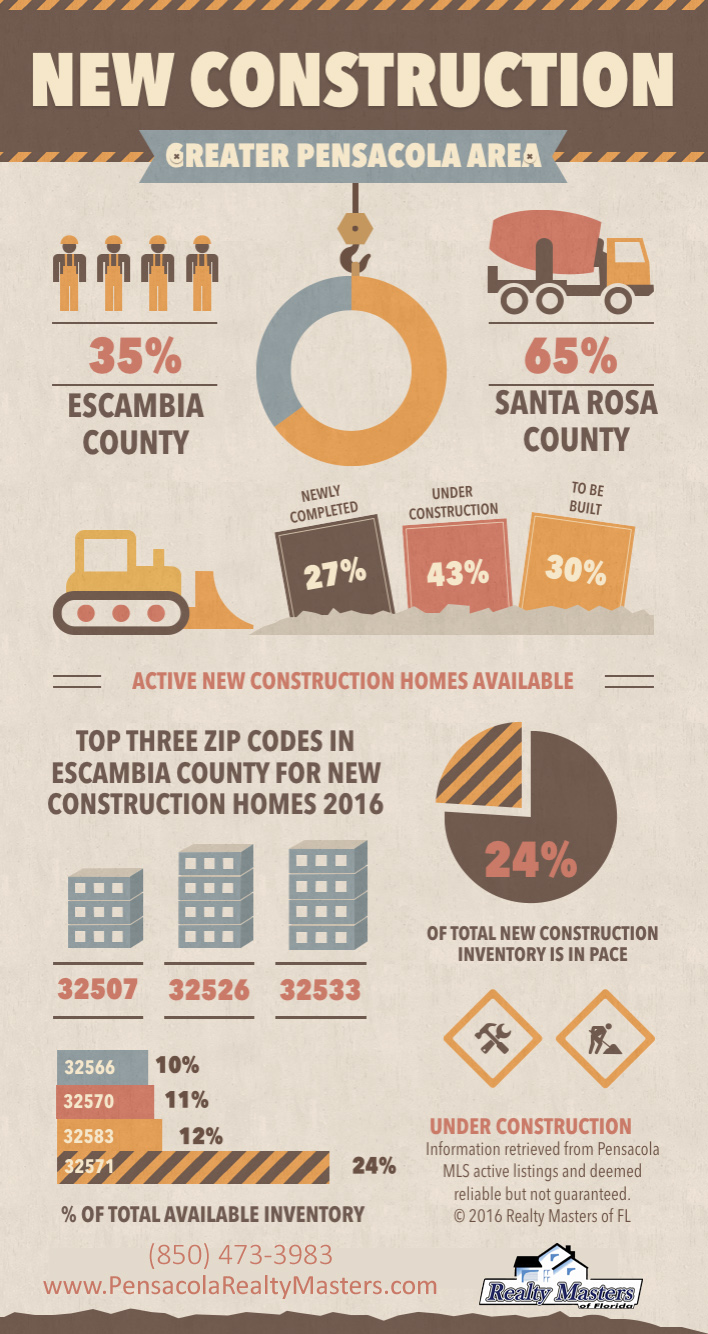 There's approximately 550 new construction homes being built with 44% under construction, 27% newly completed, and the other 30% to be built.
The top areas for new construction include Pace in Santa Rosa County and the Beulah (32526 zip code) and the Cantonment (32533 zip code) area in Pensacola with Southwest Pensacola's 32507 zip code falling behind.
If you want a list of new construction builders and neighborhoods in the Pensacola area, give our agents a call. Email Nicoles@PensacolaRealtyMasters.com and we'll send you a full list!
Nicole St. Aubin, Broker Associate
Realty Masters of FL~ (850) 473-3983
4400 Bayou Blvd. #58B, Pensacola, FL 32503
#1 in Pensacola Rental Houses & Apartments
Follow us on Facebook ~ Pinterest ~ Twitter ~ YouTube
Pensacola Traffic
Hurricane Preparedness
Summer in Pensacola
Comparing Florida Markets
Buying a Home
Buyer Tips
Pensacola Rental Market
Real Estate Sales Market Update
2020 Holiday Events
Florida Treasure Hunt
Fall Bucket List
Property Managers & Evictions
Animal Shelters
COVID-19 rent assistance
Normal Wear and Tear
Market Update
Design Trends
Cleaning at Move Out
Real Estate
Outdoor Fun
Free Credit Reports
Mortgage Forbearance
Grocery Delivery
jobs in Pensacola
Real Estate Investments
Navy Federal Credit Union
renters insurance
legislation
rental scams
Opportunity Zones and Capital Gains Taxes
Maintenance Expenses
October Community Events
HOA Management
Renters Insurance
Hurricane Insurance
Landlords
Community
Mailbox Key
Wear & Tear Versus Damage
Pest Control
Moving Resources
Blue Angels
Rents in Downtown Pensacola
Rent Assistance
Listing your Home for Sale and/or Rent
New Year's Resolutions
Hurricane Michael
Smoke Detectors
Key Safety
Downsizing
Holiday Events
Septic Tanks
Gulf Power Outage Map
Moving Tips
Burning Outdoors
Lawn care
Multi-family
Fall Events
#spotthebear
Safety
HOA
School Grades
Bulk Item Pick Up
Housing Scams
Subleasing
Steps for First Time Home Buyers
20 Year Anniversary
HVAC
House Hunting Tips
Real Estate Market
Seminars and Personal Assistant
Rent or Sell
Pensacola area Zip Codes
Build Credit
New Construction in Pensacola
Energy Tips
How to Find HOA Rules
Preparing for Freeze
Holiday Safety Guide
Maintenance Do's and Dont's
Home Warranties
Credit Score
Roads
Unapproved Dog List
Maintenance Tips
Pensacola Rental Inventory
Home Buying
Tenants
Pensacola Rental Homes
Beulah Middle School Construction
Safety Tips
Things to Do
Realty Masters Team
Item Donations
Pensacola Rental homes
NARPM
Bed Bugs
Moving out
Community Involvement
Managing Rental Properties
rental market
Pensacola Real Estate Market
Baby Boomers
Buying A Home
Waterfront real estate
New Construction
Closing Costs in Real Estate Sales
Senior Housing Communities
first time home buyers
Selling your home
Pensacola Traffic and Road Conditions
Hurricane Preparedness Tips
Summer Activities in Pensacola
Comparing Pensacola with Other Florida Markets
Easy Steps to Buying your First Home
Nicole St. Aubin
Lindsay Scapecchi
Mike Hamby
David Keen
Celia Kafka
Aramis Washington
Erica Parker
MacKenzie Rathbun
Pam Keen Brantley
Rebekah Perkins
Contributing Author
Realty Masters HOA Managers
Chuntell Patterson
Carlin Symmes
Realty Masters
Mitch Adcox
Realty Masters Sales