Pensacola Realty Masters Blog
Realty Masters is happy to present the following Pensacola area community and Pensacola real estate information!
3 Easy New Year Resolutions for your Home
01-18-2022
Michelle
Tenant Education
04-18-2022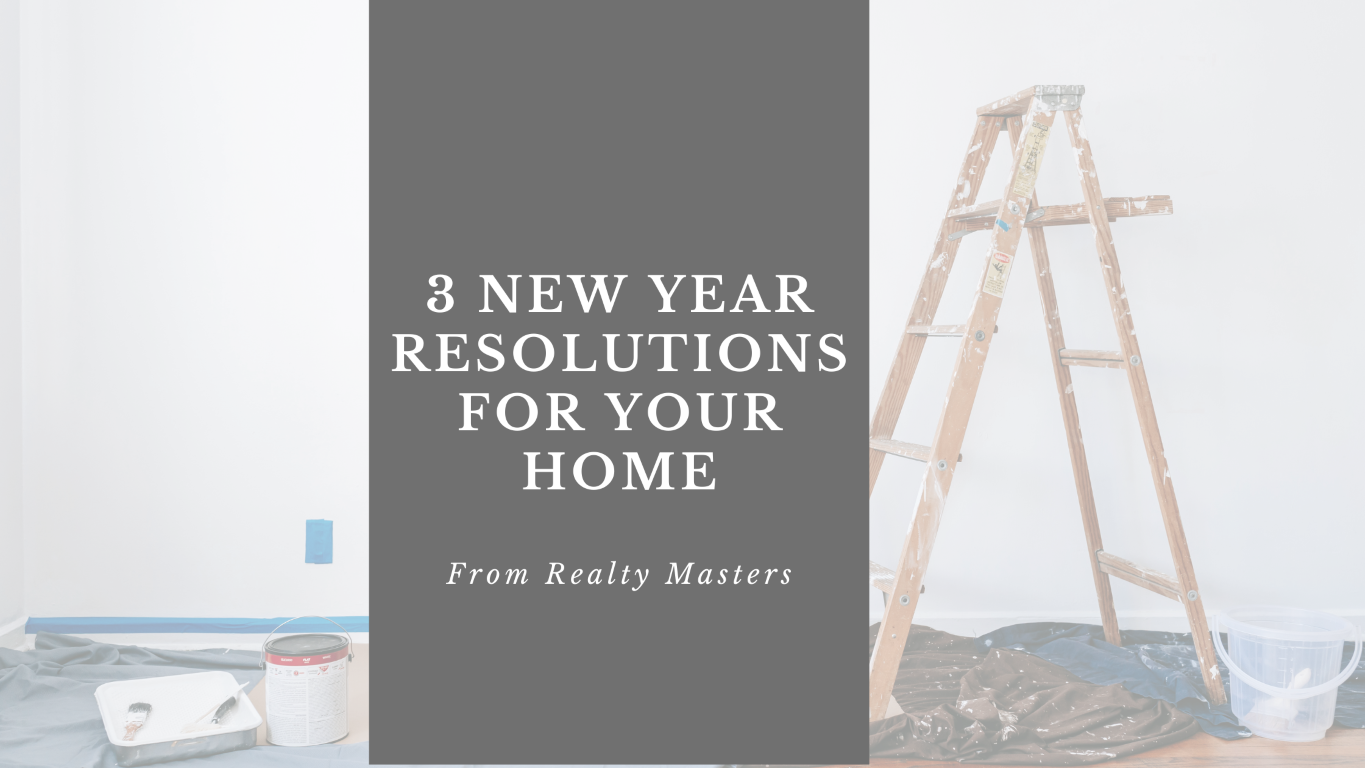 Declutter.
Every year we find ourselves accumulating things in drawers and cabinets that we never use and even forget we own. This new year, make one of your resolutions to get rid of items in your home that you do not use, are broken, or do not bring you happiness. Having a lot of clutter in your home can make things feel messy and drain your energy; donating items is a great way to get rid of your unwanted but usable items without feeling wasteful.
Shrink your bills by going green.
Trying a more Eco-Friendly way of living does not have to mean expensive purchases like solar panels. You can try these simple and inexpensive changes to your home life to try to lower your carbon footprint as well as save on your bills!
Switch off all lights before leaving your home. (This one seems like a little thing, but can make a big difference!)
Switch to LED lights. LED lights use much less energy than the normal light bulb, have a longer lifespan, and are more cost-effective.
Clean and replace air filters regularly. If your air filter is dirty, your AC is more than likely working twice as hard to keep your home cool or warm, almost doubling your electric bill and also damaging your AC unit. A greener and more cost efficient option for the normal air filters is getting a washable air filter instead. Eco Plus makes affordable washable air filters and can be found in various sizes at your local Home Depot.
Work out a cleaning system to keep your home tidy.
We all love the feeling of a clean home, but working up the energy to clean a messy home is hard! Trying to put together a set daily, weekly, and monthly cleaning schedule can make cleaning your home so much easier and less tedious. Here is a link that can help you to create the ideal cleaning schedule for you.
Most Missed Items At Move Out
07-08-2020
Lindsay
Tenant Education
04-21-2022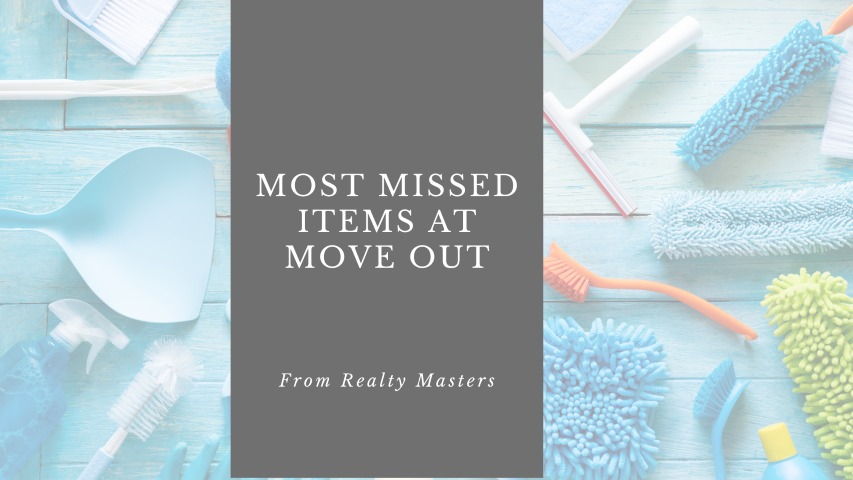 One of the worst things a property manager has to do I to tell a previous tenant their security deposit is getting charges because they did not clean properly upon moving out. We hope this helps you be more prepared for your move out to help insure the full deposit back.
Windows- Window cleaning does not just mean the glass like many seem to think. The window tracks, frame, blinds and sills need to be wiped down and free of dust and grime.
Bathrooms- Bathrooms need to be thoroughly cleaned.

Exhaust Fan- wiped down and free of dust
Toilet- tank, bowl and base scrubbed. (please make sure the water in the bowl is clean)
Tub/Showers- Scrubbed and free of soap scum and mildew.

Baseboards- All baseboards should be wiped down and be free of dust or grime.
Kitchen- This is where the majority of the issues we see are.

Fridge and Freezer- Should be cleaned out with white vinegar including trays, shelves, seal, and handle. It should be pulled out and the floor cleaned behind and underneath. Don't forget the top of the fridge, too.
Stove- Clean thoroughly including the outside, inside, racks, underneath and drawers. The drip pans should be replaced as well.
Cabinets- ALL the cabinets including drawers should be emptied and whipped out free of dust and grime. The outside of the cabinets should be cleaned with a mild soap.

A/C- Change air filter and make sure the door frame in HVAC closet is free of dust.
Yard- Please mow the lawn (if required by lease) prior to moving out. Do not leave any debris laying around the yard. If you have trash left over, you may leave it by the road in accordance to the trash providers requirements. It is your responsibility to be sure it is picked up prior to when you cancel your trash service.
Please note, this is just a list of the items usually missed and is not the full move out cleaning guidelines. You may read those here.
ECUA Offers Free Bulk Pick Up Service
05-15-2019
Nicole St. Aubin
Tenant Education
04-21-2022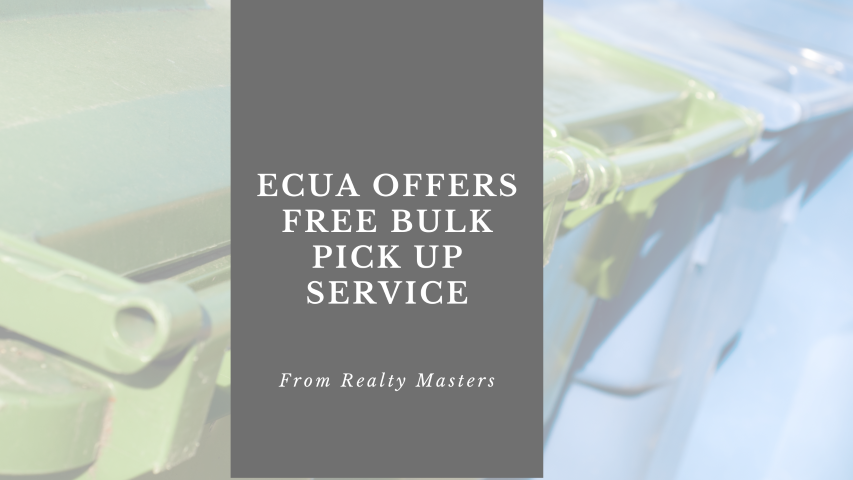 ECUA has Free Bulk Waste Pick Up
Did you know that ECUA offers bulk waste pick up included in your bill?
ECUA is the largest provider of trash services in the area and now offers recycling for a lot of Santa Rosa County and even the City of Pensacola.
How does it work? If you have old household items you want to get rid of, place them in a 6'x 6' x 6' pile and leave them at the curb on your normal trash pick up day. They inform us that they start picking up bulk items early so to have your items on the curb by 5:30 a.m. on your routine trash collection day.

What type of items can you get rid of?
Couches and mattresses

Other furniture items

Desks, dressers and chairs

Rugs and carpets

Vacuum cleaners

Bicycles

Grills

Electronics must be placed in plastic bags to keep them dry
If you live in Santa Rosa County, you must call to schedule pick up. ECUA is the largest water and trash provider in our area. If you have a different trash service, please reach out to them as they likely have similar programs available. For more information, visit ECUA's website.
ECUA also offers oil and grease recycling as well as traditional recycling programs.
If you have nice items you think others may enjoy, check out our article on item and furniture donations in the Pensacola area.
Call ECUA at (850) 476-0480 to schedule your trash pick up.
originally posted 07-03-2018
Tenant Education
Pensacola Real Estate
Owner Education
Community
Pensacola Community
Real Estate Market
Military PCS Move to Pensacola
New Construction Builders in Pensacola
Considerations when Purchasing a Pensacola Multifamily investment
What Makes a Good Pensacola Investment Property
Buy and Hold Investment Strategy
Nicole St. Aubin
Lindsay
Pam Keen
Nicole
Nicole St Aubin
Erica Parker
Michelle
Mike Hamby
David Keen
Realty Masters
Rebekah
Carlin
Mitch Adcox