Pensacola Realty Masters Blog
Realty Masters is happy to present the following Pensacola area community and Pensacola real estate information!
Mortgage Forbearance & COVID-19
04-14-2020
Nicole St. Aubin
Owner Education
04-21-2022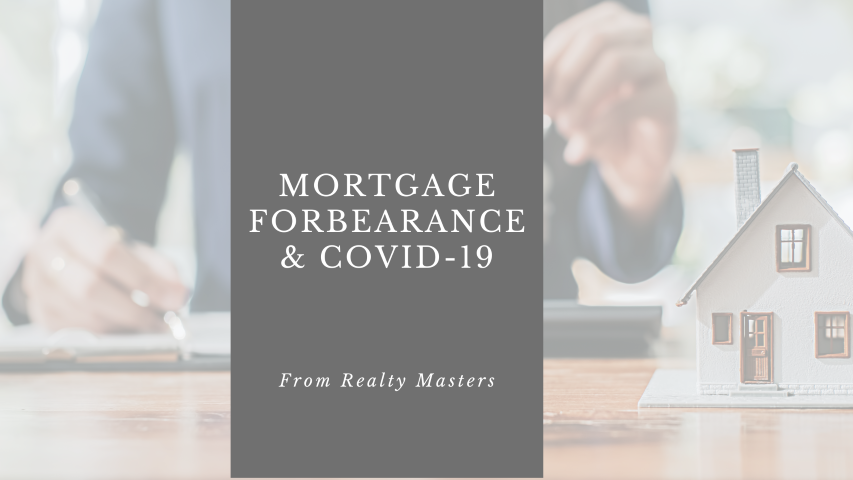 There's a lot of talk about Mortgage Forbearance since the passing of the CARES Act on March 27, 2020. The CARES Act requires lenders to allow mortgage forbearance options for 90-180 days with an option to extend another 180 days. Mortgage forbearance can allow you to defer, not waive, mortgage payments. Additionally, this option may be available to you without negative consequences to your credit. The CARES Act does not allow your lender to report negatively to the credit bureau during this time.
While this sounds very enticing, we've heard of lot of negative chatter from mortgage and financial professionals on the mortgage forbearance options being offered. Because of this, we are advising against mortgage forbearance unless it is absolutely needed.
Here's some of what we've heard:
A lot of forbearance agreements contain provisions that call the missed mortgage payments due as a balloon payment at the end of the forbearance period, called "reinstatement" to bring your account current.
Some forbearance agreements call for a repayment plan to repay the deferred mortgage payments for a period of up to 12 months. Keep in mind, you would need to pay your mortgage payment plus the additional amount under the repayment plan each month in order to keep this agreement.
Some forbearance agreements are offering deferment, where they allow you add the missed payments on the end of your loan. This is best case scenario, but make sure the language is guaranteed. For example, if it is says "at the end of the loan period, you may apply to have these payments added on..." does not guarantee this.
We've heard that some of these agreements may call for loan modification and can actually change the terms of the loan or call the loan due if you are unable to pay the amount back within a specified amount of time.
Obviously, each mortgage company has different policies, which is why it is so important to read the details of an agreement before signing it. I've not heard if these details can be negotiated, but we would recommend trying.
If you find yourself worrying about making your mortgage payment(s), we recommend you reach out to your mortgage company immediately. First, ask them if you fall under the covered category for the CARES Act. Second, ask them about your options for forbearance or any deferred payment plans or options. We strongly advise you to read the fine print of any agreement the mortgage company sends you before agreeing to a plan. In some instances, it makes more sense to investigate alternative options including home equity, personal loans,refinancing, or even selling your property.
While we advise using mortgage forbearance only as a last resort option, it may turn out to be the best option for some, especially if your bank is more lenient than some of the others. Should you decide to do a mortgage forbearance, it's best to pay as much toward the amount due as possible at this time and defer only what is necessary.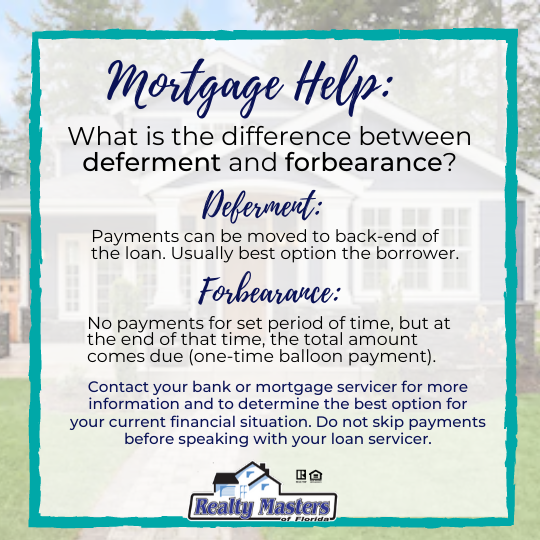 If you are a landlord and considering a forbearance on an investment property, we do recommend that you make a plan that you can adhere to even without your tenant's payment. We are working very hard to ensure tenant's understand their requirements under their lease agreement has not changed and there will be repercussions should they fail to adhere to these responsibilities. We cannot assure you that your tenant will not use this as an opportunity not to pay their rent. Please consider this when making plans.
Here's a few recent articles to read with more information about these issues.
We're happy to help and advise in whatever way we can during this time; however, do keep in mind that we are not attorneys, accountants, or mortgage professionals. We remind you to consult these experts with your specific questions.
Do you have Hurricane Insurance?
09-09-2019
Realty Masters
Owner Education
04-21-2022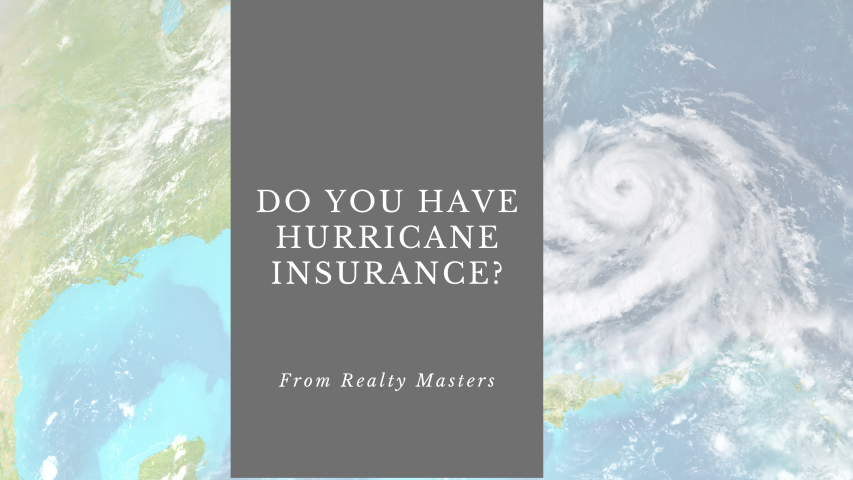 Florida hurricane season is roughly May through November. That is over half the year! On top of that, hurricanes don't always occur during their season. For homeowners in Florida and in other coastal communities, hurricanes are a huge threat.
Does your insurance policy adequately cover hurricane damage? You'll have to consider several items to reach this conclusion.
In Florida, all insurance companies are required to offer hurricane insurance for deductibles of $500, 2%, 5%, and 10%. Cutting through the insurance technical talk; Say you get a policy that covers $200,000 worth of damage and your house. Your policy has a 2% deductible. If your house is completely destroyed, your insurance company will write you a check for up to the amount of your coverage (in this case $200,000) minus your deductible (in this case $4,000). If this were to happen, you would receive the difference between your coverage and your deductible ($196,000). If you were to experience damages to your home above your deductible, the insurance company would likely offer to pay the estimated or exact repair costs less your deductible.
As we can see, a 2% deductible is great! But what about 10%? If you had a 10% deductible in the above situation, that would be $20,000! If the damage to your home were $19,995, you would be responsible for those repairs. If the damage to your home does not exceed your deductible, you would be responsible to pay the repair costs out of pocket.
Sometimes we don't realize how high our deductibles are and we're not able to meet it to repair our homes. If you're not sure what your deductible is, now is a great opportunity to check. If you're not happy with what you find, it may be time to shop around for a new policy. In some cases, improving your policy could be a matter of speaking with your insurance agent. Some policies can reduce the deductible for a minimal increase in your monthly payments.
Another thing to be aware of is that your insurance company will only make a payout once during a hurricane season. Hurricane insurance will only be paid out for damages caused by a hurricane declared by the National Weather Service. Deductibles are applied to damages occurring from the beginning of a hurricane watch up to 72 hours aver a watch/warning has ended.
Please be aware that not all insurance policies offered include hurricane or wind damage coverage as there are several different types of insurance policies. Ask your insurance agent specifically about your hurricane and wind coverage. Some policies require a separate policy for hurricane and wind-related damages. Also, make sure you that you have the right type of policy for your situation. For example, homeowners who occupy their home as their primary residence need different policy coverage than those who rent their properties. If you do not have the correct type of coverage, the insurance company may be able to deny a valid claim.
Are you a homeowner looking to ensure you have the proper coverage or a new homeowner looking for first time coverage? It is best to reach out to an insurance professional to review your policy and inquire about what insurance carrier, policy, premiums, and deductibles are right for you.
Check out these other articles about day to day insurance issues:
· Aluminum Wiring and What it Means
If you need recommendations for local insurance agents, please reach out to us for referrals!
How to Find HOA Documents Rules and Regulations
05-15-2019
Nicole St. Aubin
Owner Education
05-03-2022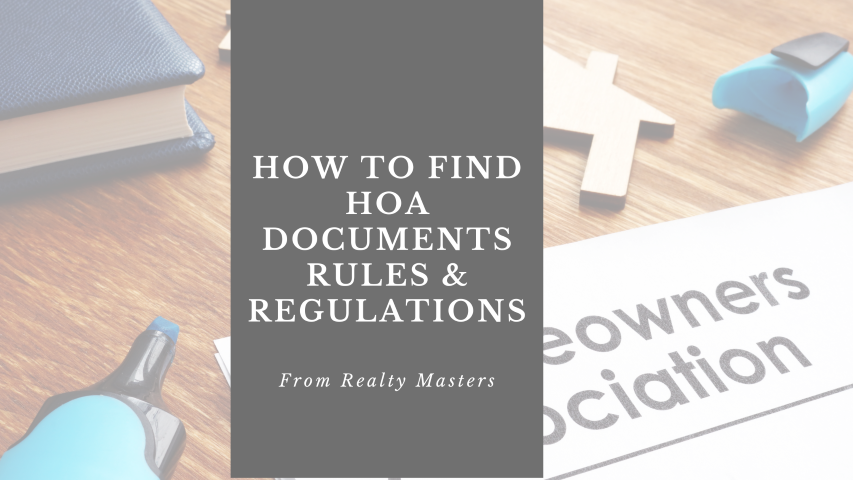 Are you considering purchasing a property that has a homeowner's association or condo association? Before you consider renting or buying a home in a covenant-enhanced community, you should be aware of and fully comprehend the rules that govern the community.
Florida law allows for certain disclosures to be made to home buyers when purchasing properties that have a homeowner's association (HOA) or a condo association (COA). You should always request the governing documents of any association prior to purchasing your home. If you are selling your house, check the folder the title company gave you when you closed to possibly locate the documents. Unfortunately, many find themselves unable to locate the appropriate documents in time since the real estate market can move so quickly. Here are a few of our best tips on how to locate these documents.
Check with a HOA Management Company
If you know for a fact that the HOA or COA is professionally managed, check with some of the other homeowner association management companies in town to find out if they manage it or if they may know who does. If you happen to know someone who resides in the community, you can ask them who manages the community and they can surely point you in the right direction.
Conduct a Quick Internet Search
Sometimes, a quick Google search will reveal an association webpage, Facebook page, or a page on some other public forums like NextDoor, that will provide you with the information you need to contact the members of the association or Board of Directors.
Check County Records
Often times, the county has a record of these governing documents online. Always check with either Escambia County or Santa Rosa County if you are searching for a homeowner's association in the Pensacola area.
Search the Division of Corporations
All associations should be registered with the Florida Department of State Divisions of Corporations. You can search their website here. While you will not find the documents here, you may find the contact listed as the registered agent or on the annual report. This will also show if the HOA or COA is still active or has been dissolved and changed to inactive which can happen from time to time.
It is ultimately the responsibility of the owner of the property to provide the buyer or tenant with the governing documents and other necessary HOA information. It is best practice to be very familiar with all guidelines in order to make for a most peaceful environment and to enjoy your new home and new neighborhood to the fullest!
Tenant Education
Pensacola Real Estate
Owner Education
Community
Pensacola Community
Real Estate Market
Military PCS Move to Pensacola
New Construction Builders in Pensacola
Considerations when Purchasing a Pensacola Multifamily investment
What Makes a Good Pensacola Investment Property
Buy and Hold Investment Strategy
Nicole St. Aubin
Lindsay
Pam Keen
Nicole
Nicole St Aubin
Erica Parker
Michelle
Mike Hamby
David Keen
Realty Masters
Rebekah
Carlin
Mitch Adcox