Pensacola Realty Masters Blog
Realty Masters is happy to present the following Pensacola area community and Pensacola real estate information!
5 Reasons to Clean Up After your Pets
01-18-2022
Nicole St. Aubin
Tenant Education
04-18-2022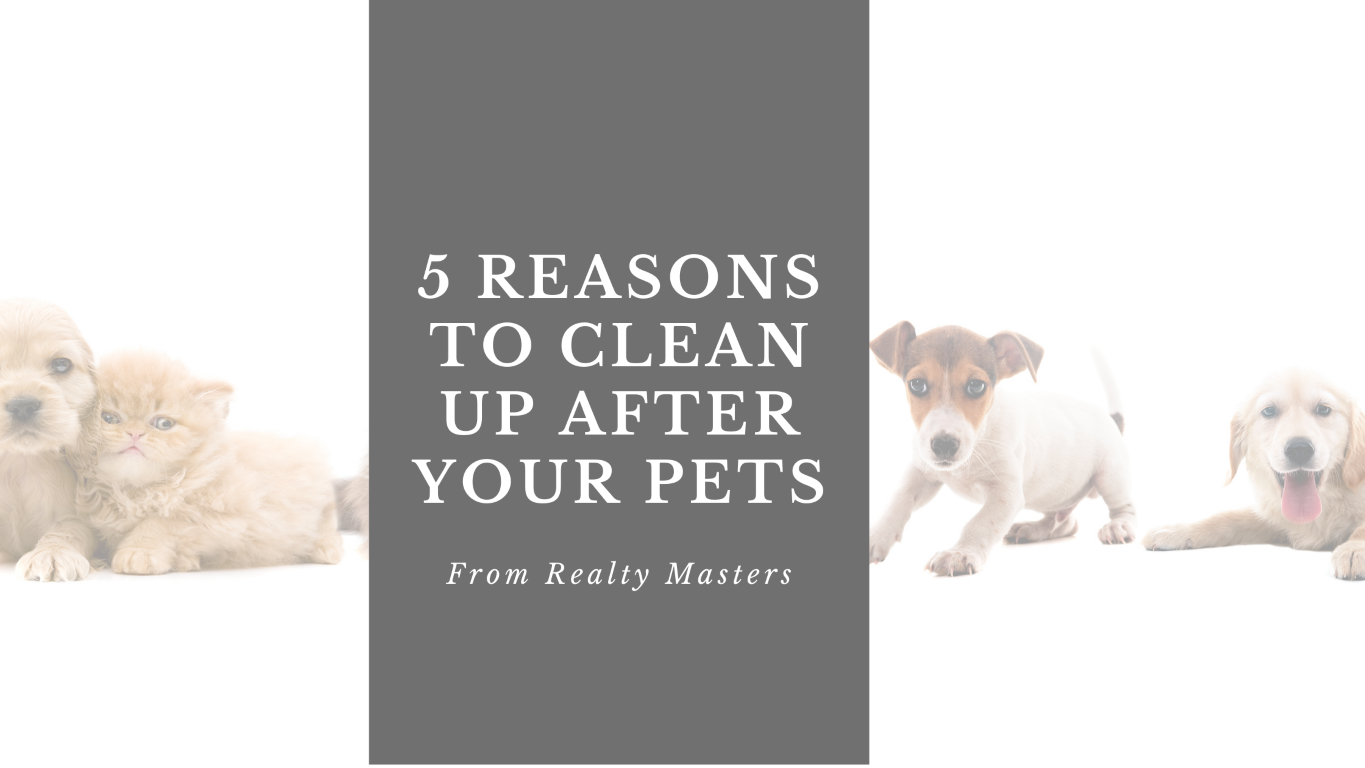 It's easy to let your dog out and forget about the waste they leave behind when you are not looking. Pet waste is a huge nuisance and one that is often not tended to in the way it should. So here's 5 really good reasons why you should scoop the poop regularly.

1. One dog can excrete an average of .75 pounds per day. Over the course of 2 months, your dog, on average, will have deposited over 45 pounds of waste in your backyard.
2. You might say, it's waste and it will eventually decompose. Based on the time of year and weather conditions, it could take several months for a single pile of dog waste to decompose.
3. The EPA defines dog waste as an environmental pollutant in the same category as pesticides. It is dangerous to your family. Parasites like worms, coccidia, and giardia are prevalent in dog waste as well as bacteria and viruses that can harm you and your family. These can all be transmitted to other pets and some even to humans.
4. It attracts insects and pests like fleas and maggots. These insects themselves carry additional diseases.
5. When you mow your yard, these particles spread throughout the yard, onto plants, and you inhale into your lungs. It can leech into your groundwater and affect local water sources causing environmental dangers to local marine life.

For these reasons and more, add picking up dog waste to your weekly chore list for a healthier 2022.
Unapproved Dog List due to Aggressive Breed Status
05-15-2019
Nicole St. Aubin
Tenant Education
05-04-2022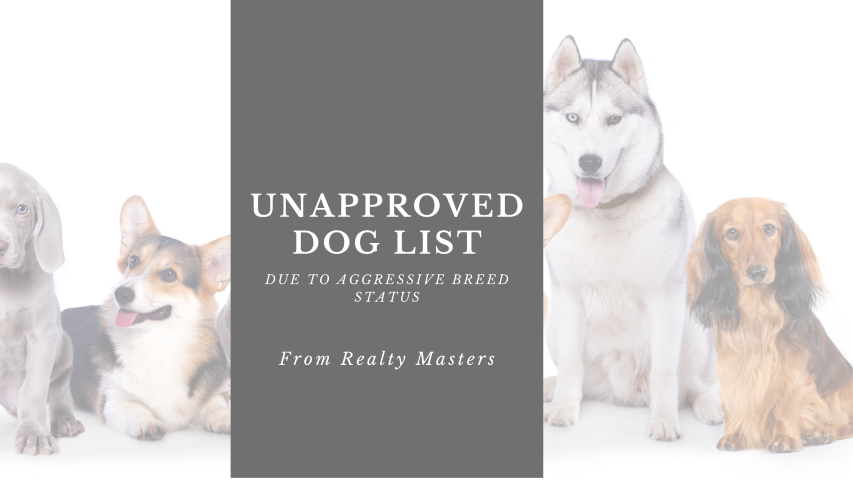 We love animals, just like you do! We love dogs of all shapes and sizes, but as a rental company in the Pensacola area, we are not able to approve all dogs to lease a home through us.
Unfortunately, certain dogs are not allowed in the underwriting guidelines of landlord insurance policies which means our office policies do not allow certain breeds of animals in our rental properties. Because of this, many large dog owners choose to purchase a home instead of leasing one. Our team is happy to help you find a nice home to buy should your situation allow for it.
It is Realty Masters policy not to allow the following animals in our Pensacola area rental properties due to the fact they are assigned as aggressive breed animals by the insurance underwriters. Any mix of the breeds below is also determined to be an aggressive breed dog and not allowed at the property.
Unapproved Dog List Due to Aggressive Breed
Akita

Doberman pinscher

German shepherd

Pit Bull

American Bull Terrier

American Staffordshire Terrier

Staffordshire Bull Terrier

English Bull Terrier

Chow

Rottweiler

Siberian Husky

Alaskan Malamute

Korean Jindo

Presa Canario

Hybrid and Purebred Wolves

Coyotes and wild dogs
If the landlord specifically requests or allows an aggressive breed dog in their home,we are happy to accomodate as long as an owner understands there is some risk and liability involved in this scenario. We recommend the renter secure renter's insurance with pet liability coverage in these scenarios.
Have any questions about this? Reach out to our team and we'll be happy to answer them.
originally posted 06-19-2017
Tenant Education
Pensacola Real Estate
Owner Education
Community
Pensacola Community
Real Estate Market
Military PCS Move to Pensacola
New Construction Builders in Pensacola
Considerations when Purchasing a Pensacola Multifamily investment
What Makes a Good Pensacola Investment Property
Buy and Hold Investment Strategy
Nicole St. Aubin
Lindsay
Pam Keen
Nicole
Nicole St Aubin
Erica Parker
Michelle
Mike Hamby
David Keen
Realty Masters
Rebekah
Carlin
Mitch Adcox