Pensacola Realty Masters Blog
Realty Masters is happy to present the following Pensacola area community and Pensacola real estate information!
Pensacola Real Estate Sales Market Update
12-28-2020
David Keen
Real Estate Sales Market Update
12-28-2020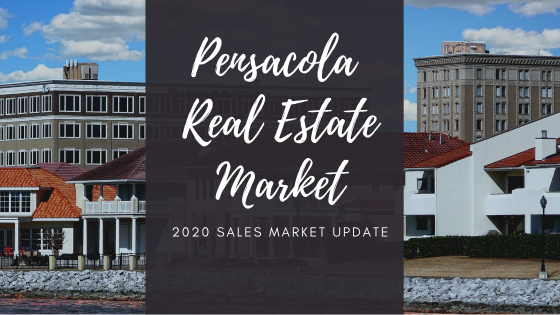 After a rough year for many business and people due to Covid-19, it has become hard to find the positives for the year 2020. However, landlords and home owners can rejoice, because the real estate market has been absolutely exploding with growth. The market for Pensacola and the surrounding areas in general has been performing at all-time highs in many areas and all the positive indicators of a sellers' market can currently be seen.

The area is experience a housing shortage like many areas, but this shortage has only been magnified by the recent coming of Hurricane Sally. This unique situation is causing prices to soar, as options for buyers are limited.
First of all, the inventory we are experiencing is significantly lower than 2019. This time last year, the MLS had a total of 2,361 active listing for buyers to choose from. Today, the MLS currently has only 1134 homes that are actively for sale. The drop in supply is over 50% from 2019-2020 and this is causing prices to go up as buyers are working against multiple offers the first week the home goes on the market, in many instances.
To put things into perspective, the average sales price of homes in our area has gone up a whopping $46,000 from this time last year. Even the medium sales price has gone up $30,000 from last year at this time.
Not only are the prices going up, but even the average days on the market for sales has gone down significantly. Last year, the average time on the market before a home sold was 58 days. That number today, is down to just 41 days.

Homes are truly selling for historically high prices, while closing in record time. All these factors make for a perfect opportunity for home owners to capitalize on their investments. If you have considered selling your home in the past, now may be the best time to capitalize on the market conditions. Even if you are just curious how much your home could sell for, we would be happy to give you our opinion on the value, while also, helping you weigh the pros and cons of selling. Give our sales office a call today to take advantage of the market today, before it's too late. Contact us at (850) 453-9220 or email Pam@PensacolaRealtyMasters.com
The Realty Masters of FL Team
#1 in Pensacola Property Management and Leasing!
Rental Office 4400 Bayou Blvd. #58B, Pensacola, FL 32503 (850) 473-3983 www.PensacolaRealtyMasters.com
Sales Office 4400 Bayou Blvd. #52B, Pensacola, FL 32503 (850) 453-9220 www.RealtyMastersofFlorida.com
What are closing costs in a real estate sale?
05-09-2019
Realty Masters Sales
Closing Costs in Real Estate Sales
06-24-2020
originally posted 05-18-2016
What are Closing Costs when buying or selling your home?
Rick Puckett, Realtor is here to give you an introduction on a short series of videos by Realty Masters to explain what closing cosst are.
Closing costs are an important point in a real estate transaction that may confuse home buyers and sellers. He will highlight some of the things that contribute to closing cost as well as some opportunities open to buyers and sellers alike to lower or eliminate them altogether.
Stay tuned for more information on closing costs! In the meantime, contact Rick directly with your questions about closing costs.
Rick Puckett, Realtor
(850) 324-0523 cell /
(850) 473-3983 office
Rick@PensacolaRealtyMasters.com
Comparing Florida Markets
Buying a Home
Buyer Tips
Pensacola Rental Market
Real Estate Sales Market Update
2020 Holiday Events
Florida Treasure Hunt
Fall Bucket List
Property Managers & Evictions
Animal Shelters
COVID-19 rent assistance
Normal Wear and Tear
Market Update
Design Trends
Cleaning at Move Out
Real Estate
Outdoor Fun
Free Credit Reports
Mortgage Forbearance
Grocery Delivery
jobs in Pensacola
Real Estate Investments
Navy Federal Credit Union
renters insurance
legislation
rental scams
Opportunity Zones and Capital Gains Taxes
Maintenance Expenses
October Community Events
HOA Management
Renters Insurance
Hurricane Insurance
Landlords
Community
Mailbox Key
Wear & Tear Versus Damage
Pest Control
Moving Resources
Blue Angels
Rents in Downtown Pensacola
Rent Assistance
Listing your Home for Sale and/or Rent
New Year's Resolutions
Hurricane Michael
Smoke Detectors
Key Safety
Downsizing
Holiday Events
Septic Tanks
Gulf Power Outage Map
Moving Tips
Burning Outdoors
Lawn care
Multi-family
Fall Events
#spotthebear
Safety
HOA
School Grades
Bulk Item Pick Up
Housing Scams
Subleasing
Steps for First Time Home Buyers
20 Year Anniversary
HVAC
House Hunting Tips
Real Estate Market
Seminars and Personal Assistant
Rent or Sell
Pensacola area Zip Codes
Build Credit
New Construction in Pensacola
Energy Tips
How to Find HOA Rules
Preparing for Freeze
Holiday Safety Guide
Maintenance Do's and Dont's
Home Warranties
Credit Score
Roads
Unapproved Dog List
Maintenance Tips
Pensacola Rental Inventory
Home Buying
Tenants
Pensacola Rental Homes
Beulah Middle School Construction
Safety Tips
Things to Do
Realty Masters Team
Item Donations
Pensacola Rental homes
NARPM
Bed Bugs
Moving out
Community Involvement
Managing Rental Properties
rental market
Pensacola Real Estate Market
Baby Boomers
Buying A Home
Waterfront real estate
New Construction
Closing Costs in Real Estate Sales
Senior Housing Communities
first time home buyers
Selling your home
Comparing Pensacola with Other Florida Markets
Easy Steps to Buying your First Home
5 Tips to Buyers Purchasing in a Seller's Market
Pensacola Rental Market 2021
Pensacola Real Estate Sales Market Update
Nicole St. Aubin
Mike Hamby
David Keen
Lindsay Scapecchi
Celia Kafka
Aramis Washington
Erica Parker
MacKenzie Rathbun
Pam Keen Brantley
Rebekah Perkins
Contributing Author
Realty Masters HOA Managers
Chuntell Patterson
Carlin Symmes
Realty Masters
Mitch Adcox
Realty Masters Sales