Pensacola Realty Masters Blog
Realty Masters is happy to present the following Pensacola area community and Pensacola real estate information!
5 Tips to Buyers Purchasing in a Seller's Market
02-24-2021
David Keen
Pensacola Real Estate
05-03-2022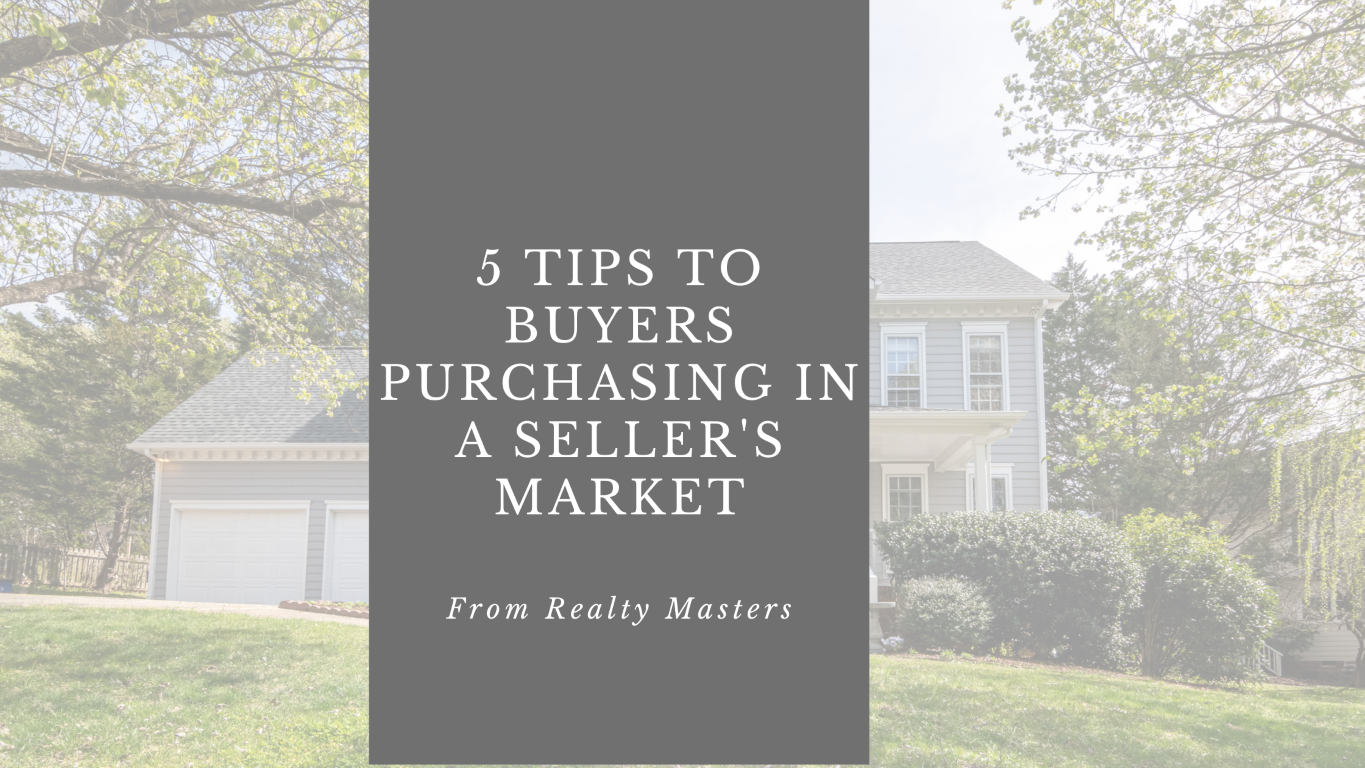 There is no doubt about it- we are in a seller's market. Inventory is down as much as 50%, and prices are up, which makes finding a home to purchase more challenging. It is not uncommon for Pensacola area sellers to get 10 or 15 offers upon putting their home on the market. Especially now, buyer's need a little more than good luck to secure a nice home. Buyers (and us Realtors, too) are easily frustrated over the process of trying to secure a home. With the help of a good realtor and a lot of persistence, you can still find your dream home in the Pensacola area!
Here's David explaining 5 quick tips for homebuyers to help navigate the seller's market and get their offer accepted.
Get a realtor who can communicate well with the other listing agent. This can help to find out what is important to the seller and strengthen you offer for negotiations.
Consider an escalation clause to step above other offers.
Consider what the offer will net and come with your own closing costs.
Simplify the contract! Remove contingencies, consider a shorter inspection period, and limit repairs.
Get a strong pre-approval and shop within your budget.
Reach out to David for help finding yours at (850) 375-7529 or email him David@PensacolaRealtyMasters.com
You can search Pensacola area homes for sale on our website here https://www.pensacola-gulfbreezehomes.com/
2020 Home Design Trends
07-13-2020
Lindsay
Owner Education
05-03-2022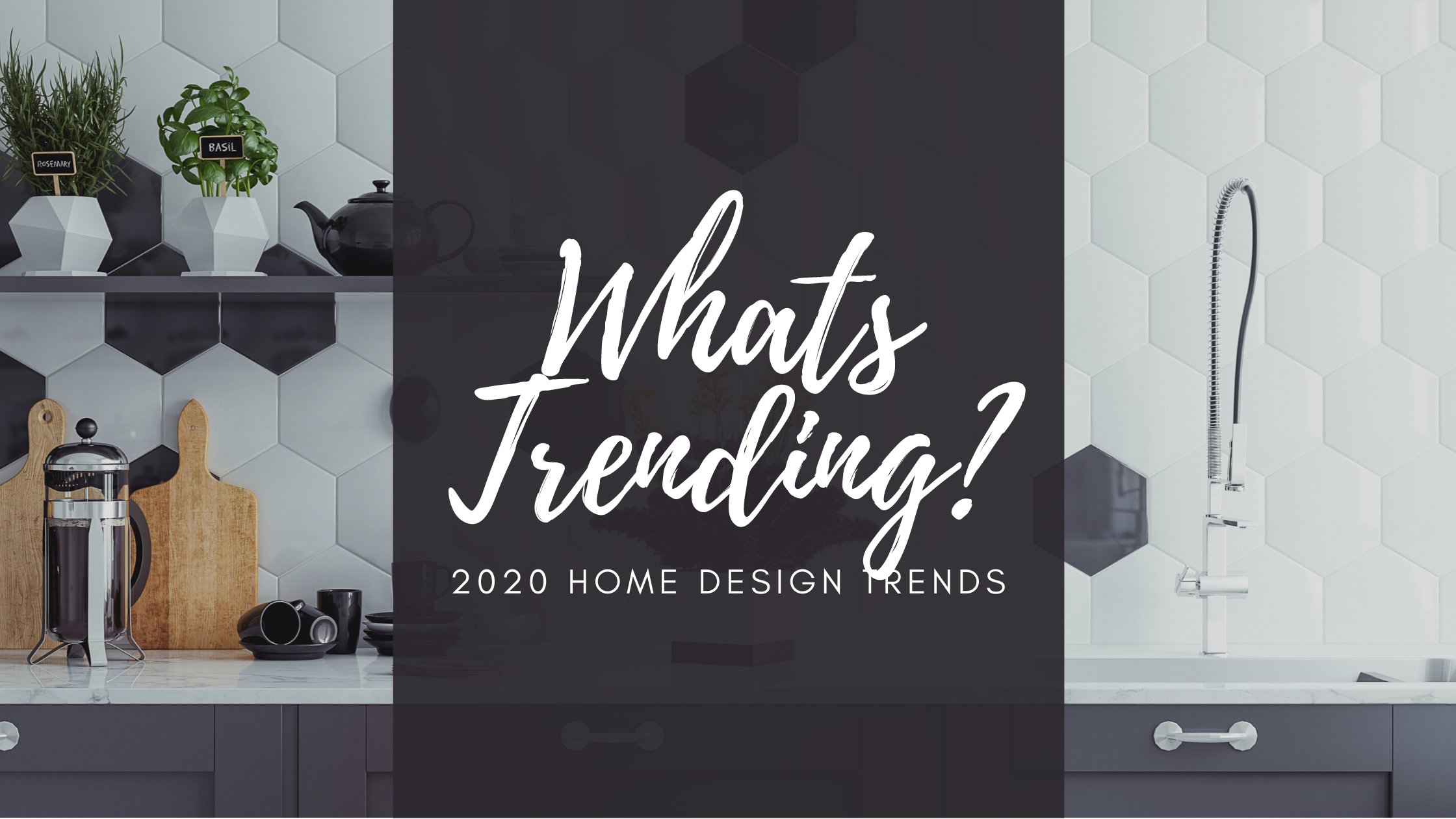 Nonwhite Kitchens- We all know that white kitchens have been all the rave for a very long time. While they are still popular we are seeing an increase in colored cabinets. Colors are ranging from soft greys and pastel blues to bold navy blues and black. Some are even combining the two tends with the colored lower and white upper cabinets.
Rustic/ Antique accents- Locally the "farmhouse" style seems to be the most popular the antique look goes beyond the country feel. Antique lighting fixtures seem to be the most popular. The combination of new and old creates one of a kind spaces.
Bath Tubs- One of the biggest selling features in a home besides the kitchen is the master bathroom. The new trends are showing that more people prefer the freestanding tub. If you want to take it over the top you can even put the freestanding tub into the oversized shower like one of our recent sellers.
Bathroom Tiles- Like we mentioned before the Master Bathroom is a huge selling feature so many sellers are choosing to use bold tiles to leave an impression. While accent times have been around for a while these have taken it to the next level. In small bathrooms they are commonly seen on the floor while in the larger bathrooms you can find them on an entire wall.
Formal Dining- For a while we were seeing that the formal dining space was going away. It seems that trend may be coming to an end as more people are choosing to use the dining space as a staged room.
Selling your Single-Family, Tenant Occupied Rental Property
05-15-2019
Nicole St. Aubin
Owner Education
05-03-2022
As the real estate market in Pensacola is improving, more hesitant or forced landlords are seeking to sell their tenant occupied rental properties in the Pensacola area. For the first time in years, accidental landlords are able to sell their properties. You may be looking at capital gains taxes and running out of the timeline allowed to sell. Check with your accountant for advice on this. If you are a landlord of a duplex, apartment, or lower end property, it is most likely advantageous to sell your property with a tenant who has an existing lease so this advice does not necessarily apply to you. Investors looking to purchase properties want a property with a current tenant in place so keep that in mind! Most of the properties in our rental portfolio will only be marketable to home owners looking to purchase an owner occupied residence.
If you are considering selling, consider our best practices for selling your rental property before making a move to list your home.
1. Approach your tenants first!
You may already have a ready, willing and able buyer. We just closed on a property this week for a landlord whose tenant purchased the home at fair market value and have another duplex under contract with current occupants.
2. Consider putting the property for rent or for sale when you place it on the rental market.
Unsure whether you want to try to lease or sell? Let us put it on the market for rent or for sale when your tenants give notice to vacate.

Consider the average time on the market for Pensacola homes for sale is approximately 90 days whereas the average time on the rental market is about 30 days. If you are really anxious to sell, it's best to list it a month on the sales market prior to listing it for rent. While your home being on the sales market may turn away a few renters, it will not keep your house from selling and may even entice a buyer to act faster.
3. Review your lease agreement.
Does your tenant's' lease agreement address the sale of your property? Remember, Florida Landlord Tenant Law does not cancel your lease agreement upon the sale of your property and the new owner is bound to fulfill this lease agreement unless your lease states otherwise.

Luckily, our lease agreement says that tenants can be given a 60 day notice to vacate and terminate their lease once the property is under contract for sale. Consider the tenants required notice period as well as the time it will take them to vacate before listing your rental property for sale.

If your tenant is in a lease agreement, it will be necessary to give your tenant proper notice to vacate. The law can be confusing in this area and largely depends on what your lease agreement says so if you are homeowner in the state of Florida without a Realty Masters lease, consult your lease agreement and Florida Landlord Tenant Law.
4. Consider your tenants lease expiration date.
Don't put the property on the market for sale when tenants have just moved in or renewed their lease. They will be mad and a scorned tenant is not in your best interest. Think of how much effort is required to move, much less all the extra cost involved in moving. Your tenant will not be cooperative, happy, or good to your property during the time they reside in your home.

We find one of the best times to list your property is 2-4 months prior to your tenants move out date.
5. Consider deadlines for the sale and communicate a plan of action to your tenant.
If you do have interest in selling and don't want a vacancy, the best course of action is to set a timeline up front to the tenant. It's best to approach your tenants to explain your desire and necessity to sell and learn their intentions at the end of the lease renewal. Once knowing if they want to stay or are going to move regardless, you can plan an appropriate course of action. If they want to stay, set the expectations and timelines upfront.

For example, you could list the property 90 days prior to the lease expiration and remove it from the sales markes if it doesn't sell within 60 days.

Be sure you communicate a plan you will agree to stick to prior to talking with your tenants.
6. Consider an incentive for the tenant.
Don't expect your tenants to be as interested in selling your property as you are! Incentivize them to do so. For example, we have seen owners offer a slightly reduced monthly rent and a full return of the deposit even when repairs are necessary as a financial incentive for showings. We recommend offering an incentive to your tenant if you want a smooth sale.

One of the biggest hurdles when selling your tenant occupied home is delayed access to the property. Florida Landlord Tenant Law require reasonable notice as defined as 12 hours. Our company policy is to require next day notice in order to meet the threshold the law defines. Real estate sales happen in real time and don't always provide advanced notice. You must realize your home will miss showings to qualified buyers due to this time delay. Renters become disheartened by the number of showings and feel their quality of life is decreased when their home is being marketed for sale. This can cause a tenant to be uncooperative in showings or inspections, vacate your property or even attempt to break their lease early.

Tenants have never sold a property and don't understand the process. Showing your home to multiple sets of buyers repeatedly causes inconveniences and can be seen as an intrusion in privacy. Offering them a financial incentive leads to tenant buy in and will help you achieve your goal of selling your property.
7. Your rental home probably needs some sprucing up to be competitive in a real estate market with owner occupied homes.
Your tenants don't necessary want your home to sell and most likely hope it does not sell! With competing interests, your property will be harder to sell than a normal owner occupied Pensacola area home.

Renters may not necessarily keep in the home in show ready condition. You can avoid negative showing feedback if you have a Realtor walk through your home prior to listing it. Listen to their feedback and make any cost effective changes possible prior to listing your house on the market for sale.

Consider a home inspection prior to the sale so you can address issues that be present in your inspection. If your windows are fogging, roof has less than 5 years age, or your siding has a lot of wood rot, this will cause problems. Items like these are common and can be expensive repairs that may prevent you from selling your property to an FHA or VA buyer due to lending restrictions. It's better to know and address as many items upfront to be sure your ready, willing, and able buyer will be able to purchase your home.
Are you interested in a market anaylsis for your rental property? Reach out to our sales team or email me!
originally posted 03-04-2017
Tenant Education
Pensacola Real Estate
Owner Education
Community
Pensacola Community
Real Estate Market
Military PCS Move to Pensacola
New Construction Builders in Pensacola
Considerations when Purchasing a Pensacola Multifamily investment
What Makes a Good Pensacola Investment Property
Buy and Hold Investment Strategy
Nicole St. Aubin
Lindsay
Pam Keen
Nicole
Nicole St Aubin
Erica Parker
Michelle
Mike Hamby
David Keen
Realty Masters
Rebekah
Carlin
Mitch Adcox