Pensacola Realty Masters Blog
Realty Masters is happy to present the following Pensacola area community and Pensacola real estate information!
Holiday & Community Resources from Realty Masters
11-19-2021
Nicole St. Aubin
Community
05-03-2022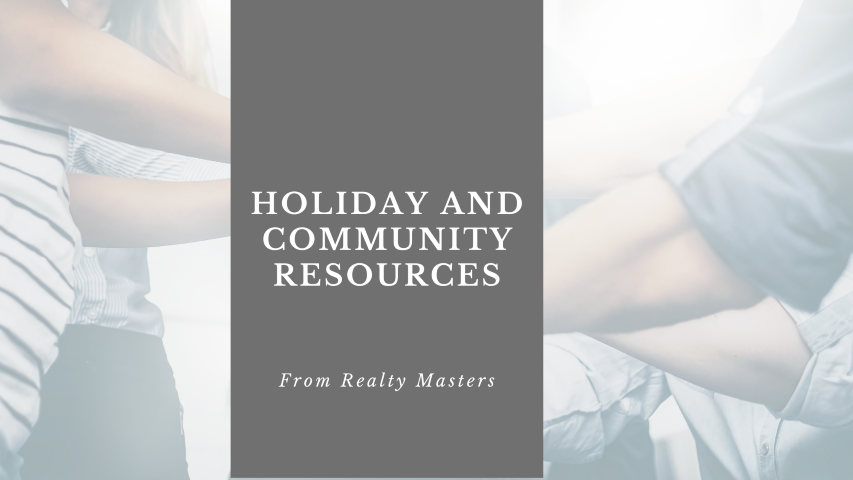 Community Resources for the Holidays
We can all use a little help sometime! As the holidays approach, we are finding more Pensacola area residents struggling with staying on top of their bills as the price of everything seems to continue to increase. We are here to help! We've compiled a list of community resources to help you this Holiday Season.
Children's Toys for the Holidays
The USMC Toys for Tots program supplies families with kids under 14 with a toy for the holiday season. Families can sign up at: https://pensacola-fl.toysfortots.org/local-coordinator-sites/lco-sites/local-toy-request-single-form.aspx, registration closes December 1st.

The Watson Family Foundation provides a Gift Giving Drive to provide toys for area youth. Check the website and submit a form to request aid here: https://www.watsonfamilyfoundation.com
Food and Meal Donations
Food costs are rising at a record pace. While we face supply chain disruptions, labor shortages and inflation, you can expect food prices to continue to increase. As the holidays approach, local non-profits ramp up their meal and food giveaways. Check out some of the events below.

Thanksgiving Meals
These community partners are providing Thanksgiving meals to all.
The Watson Family Foundation- Community advocate and local attorney Aaron Watson's foundation is hosting a Thanksgiving Turkey Dinner- Drive Up Giveaway. This event is taking place on Monday, November 22, 2021 at 10 AM in Town & Country Plaza at 3300 N Pace Blvd., Pensacola, FL 32505.
Magic 106.1 Magic of Thanksgiving- Thanksgiving Dinner at Favor Flavor Seafood Restaurant on Tuesday, November 23, 2021 starting at 10:30 AM. Free meal whether dine in or to go and is located at 2005 W. Jordan St.
Waterfront Rescue Mission- Will serve Thanksgiving meals at a variety of centers on November 25th and at Opening Doors on November 23rd.
Stripes Pub & Grill in Navarre- Dine in or to go free cooked Thanksgiving Meal Thursday, November 25th from 12 PM to 3 PM.
Upcoming Grocery & Food Giveaways
These events are open to all with no documentation needed and are drive through sites!
Waterfront Rescue Mission in Pensacola- Farm to City Food Giveaway on November 23, 2021 from 10 AM to 12 PM. Car line up begins on 8 AM first come, first serve. The event is located at 348 W Herman St. in Pensacola.
Farm to City at Milton Community Center- Distribution begins on November 23, 2021 from 10 AM to 12 PM. Car line up begins at 8 AM and the event is first come, first serve. The address is 5629 Byrom St., Milton, FL 32570.
Local Food Pantries
The best way to receive access to a full list of food pantries and donation sites is to contact United Way of West Florida. Give them a call at 2-1-1, text your zip code to 898-211, or visit www.211nwfl.org

Manna Food Pantries is helping to stock the local, smaller food pantries in the community and not giving direct support to community members. Both 211 and Feeding the Gulf Coast have a director of food pantry, child meal sites, and more on their websites.
Community Resources and Non-Profits
Happy Holidays to everyone!
Tenant Education
Pensacola Real Estate
Owner Education
Community
Pensacola Community
Real Estate Market
Military PCS Move to Pensacola
New Construction Builders in Pensacola
Considerations when Purchasing a Pensacola Multifamily investment
What Makes a Good Pensacola Investment Property
Buy and Hold Investment Strategy
Nicole St. Aubin
Lindsay
Pam Keen
Nicole
Nicole St Aubin
Erica Parker
Michelle
Mike Hamby
David Keen
Realty Masters
Rebekah
Carlin
Mitch Adcox