Pensacola Realty Masters Blog
Realty Masters is happy to present the following Pensacola area community and Pensacola real estate information!
Mortgage Forbearance & COVID-19
04-14-2020
Nicole St. Aubin
Owner Education
04-21-2022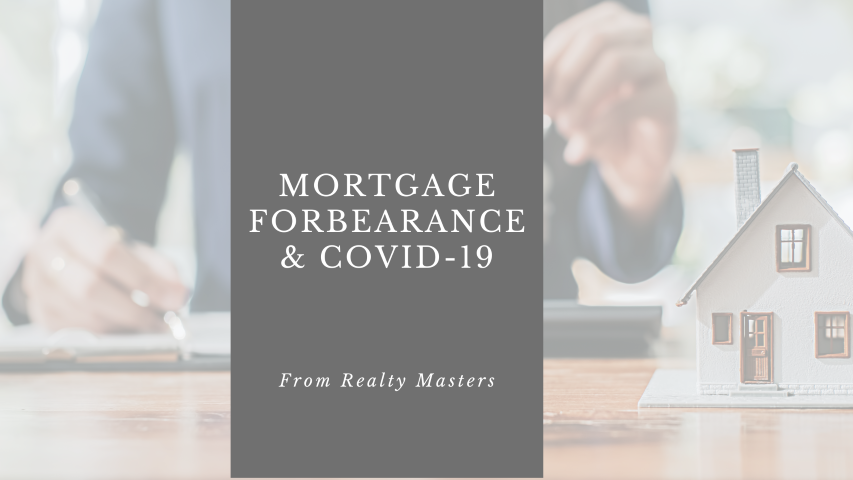 There's a lot of talk about Mortgage Forbearance since the passing of the CARES Act on March 27, 2020. The CARES Act requires lenders to allow mortgage forbearance options for 90-180 days with an option to extend another 180 days. Mortgage forbearance can allow you to defer, not waive, mortgage payments. Additionally, this option may be available to you without negative consequences to your credit. The CARES Act does not allow your lender to report negatively to the credit bureau during this time.
While this sounds very enticing, we've heard of lot of negative chatter from mortgage and financial professionals on the mortgage forbearance options being offered. Because of this, we are advising against mortgage forbearance unless it is absolutely needed.
Here's some of what we've heard:
A lot of forbearance agreements contain provisions that call the missed mortgage payments due as a balloon payment at the end of the forbearance period, called "reinstatement" to bring your account current.
Some forbearance agreements call for a repayment plan to repay the deferred mortgage payments for a period of up to 12 months. Keep in mind, you would need to pay your mortgage payment plus the additional amount under the repayment plan each month in order to keep this agreement.
Some forbearance agreements are offering deferment, where they allow you add the missed payments on the end of your loan. This is best case scenario, but make sure the language is guaranteed. For example, if it is says "at the end of the loan period, you may apply to have these payments added on..." does not guarantee this.
We've heard that some of these agreements may call for loan modification and can actually change the terms of the loan or call the loan due if you are unable to pay the amount back within a specified amount of time.
Obviously, each mortgage company has different policies, which is why it is so important to read the details of an agreement before signing it. I've not heard if these details can be negotiated, but we would recommend trying.
If you find yourself worrying about making your mortgage payment(s), we recommend you reach out to your mortgage company immediately. First, ask them if you fall under the covered category for the CARES Act. Second, ask them about your options for forbearance or any deferred payment plans or options. We strongly advise you to read the fine print of any agreement the mortgage company sends you before agreeing to a plan. In some instances, it makes more sense to investigate alternative options including home equity, personal loans,refinancing, or even selling your property.
While we advise using mortgage forbearance only as a last resort option, it may turn out to be the best option for some, especially if your bank is more lenient than some of the others. Should you decide to do a mortgage forbearance, it's best to pay as much toward the amount due as possible at this time and defer only what is necessary.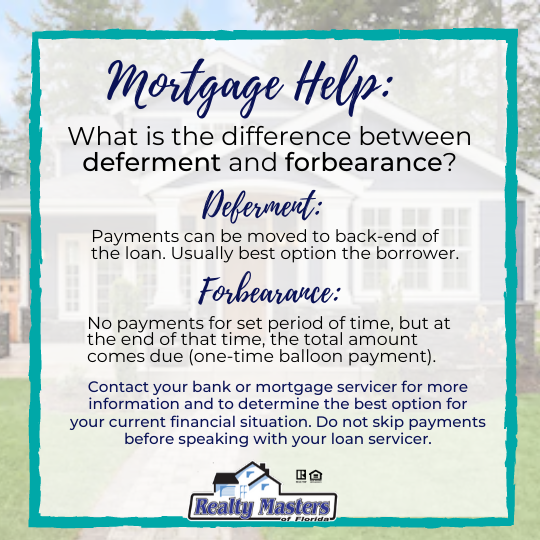 If you are a landlord and considering a forbearance on an investment property, we do recommend that you make a plan that you can adhere to even without your tenant's payment. We are working very hard to ensure tenant's understand their requirements under their lease agreement has not changed and there will be repercussions should they fail to adhere to these responsibilities. We cannot assure you that your tenant will not use this as an opportunity not to pay their rent. Please consider this when making plans.
Here's a few recent articles to read with more information about these issues.
We're happy to help and advise in whatever way we can during this time; however, do keep in mind that we are not attorneys, accountants, or mortgage professionals. We remind you to consult these experts with your specific questions.
Tenant Education
Pensacola Real Estate
Owner Education
Community
Pensacola Community
Real Estate Market
Military PCS Move to Pensacola
New Construction Builders in Pensacola
Considerations when Purchasing a Pensacola Multifamily investment
What Makes a Good Pensacola Investment Property
Buy and Hold Investment Strategy
Nicole St. Aubin
Lindsay
Pam Keen
Nicole
Nicole St Aubin
Erica Parker
Michelle
Mike Hamby
David Keen
Realty Masters
Rebekah
Carlin
Mitch Adcox