Pensacola Realty Masters Blog
Realty Masters is happy to present the following Pensacola area community and Pensacola real estate information!
Pensacola Real Estate Market Statistics and Update!
05-15-2019
David Keen
Pensacola Real Estate
05-03-2022
The Pensacola Real Estate Market is strong!
We are taking a look back at 2016 Real Estate Statistics. The Florida Real Estate market, which was known to be hard hit by the recession, is showing continual signs of improvement. This is great news for homeowners and landlords but not necessarily great news for tenants.
Let David Keen, Realtor, give you a rundown of some of the highlights of the 2016 Pensacola Real Estate Market.

Here's a summary of what David Keen, Realtor, has to say.
Pensacola Real Estate Market
Home Sale Prices in the Pensacola Area were up about 5% over 2015 Home Sale Prices

Inventory is down and supply is limited

New Construction makes up a large percentage of inventory

Foreclosures and Short Sales are now only about 3% of active sales inventory

Average time on the market for properties for sale in Pensacola is sitting at approximately 90 days
With days on the market down along with inventory and supply, sales prices are likely to continue to increase in the Pensacola area. As David mentioned, the distressed inventory made up nearly 29% of our active inventory just two January's ago and now the distressed inventory is down to about 3% of active inventory. Because so many of the sales comparables were distressed properties, it kept the market and appraisal values down. In comparison, today in 2017, nearly 1/3 of the active inventory are new construction, or brand new, homes.
As we are expecting an increase in interest rates in the coming months, many buyers are using this opportunity to purchase a larger home and sell their old home or deciding to make the leap from renter to homeowner.
Pensacola Rental Market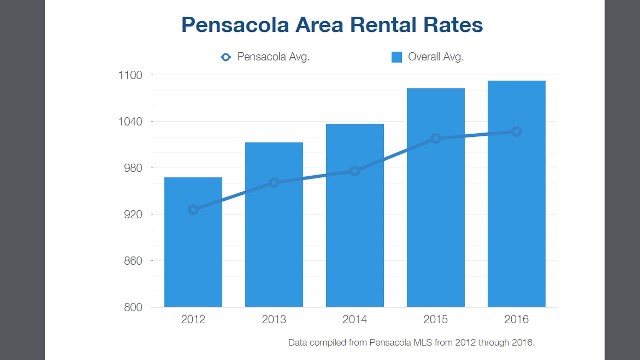 Rental Rates have increased about 3% over 2015 rental rates. While this is not as strong as the improvement for the sales market, we expect tighter inventory to continue to drive rental rates up!

The average rental rate in Pensacola is up to approximately $1,100

Rental Supply is limited with nearly 1,000 fewer units on the single-family rental market than five years ago.
What do these statistics mean? The shrinking inventory of Pensacola area rental properties comes from forced landlords who previously could not sell their homes. These hesitant landlords leased their homes, condos, and townhomes out of necessity, not out of desire. Because of the improving real estate sales market, hestitant landlords are choosing to sell their properties rather then releasing when their tenants vacate. This trend began in 2013 but ramped up in 2016.
The increase in rental supply in 2014 comes from a huge increase in investor purchases as prices were down and distressed inventory was high. Now that it's harder to find affordable investments in the Pensacola area, the investor sales have finally leveled off although demand has not. We expect even more landlords to sell their rental properties this year further tightening the rental inventory. Because of these factors, rental prices will continue to increase over the coming years. This lack of inventory and increase in prices is forcing some renters to make the leap to homeownership earlier than they had desired!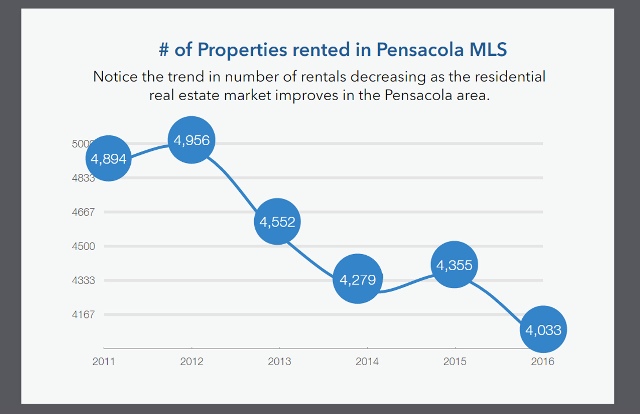 Are you interested in building a rental portfolio? We have owners ready to sell their rental properties and know where you can find the best deals on auction sites, with tax deed sales, and with existing foreclosure inventory.
Do you have questions about the Pensacola rental market or the sales market? Reach out to our team for answers!
originally posted 03-02-2017
Tenant Education
Pensacola Real Estate
Owner Education
Community
Pensacola Community
Real Estate Market
Military PCS Move to Pensacola
New Construction Builders in Pensacola
Considerations when Purchasing a Pensacola Multifamily investment
What Makes a Good Pensacola Investment Property
Buy and Hold Investment Strategy
Nicole St. Aubin
Lindsay
Pam Keen
Nicole
Nicole St Aubin
Erica Parker
Michelle
Mike Hamby
David Keen
Realty Masters
Rebekah
Carlin
Mitch Adcox