Pensacola Realty Masters Blog
Realty Masters is happy to present the following Pensacola area community and Pensacola real estate information!
Pensacola Welcome's UWF Football
05-15-2019
David Keen
Things to Do
07-16-2019
Oh what a time to live in the great city of Pensacola!
The growth our city has seen in the past few years has been nothing short of phenomenal. No area has seen a shift in popularity quite like the Downtown Pensacola area. The area has gone from a few businesses and restaurants, to a haven for entertainment, nightlife, and now best of all, home town sports. The shift began on Palafox with the addition of multiple bars and restaurants, to surround the already rich historical area that the street sits on and continued to slowly expand outward. With the growth of that area came opportunity.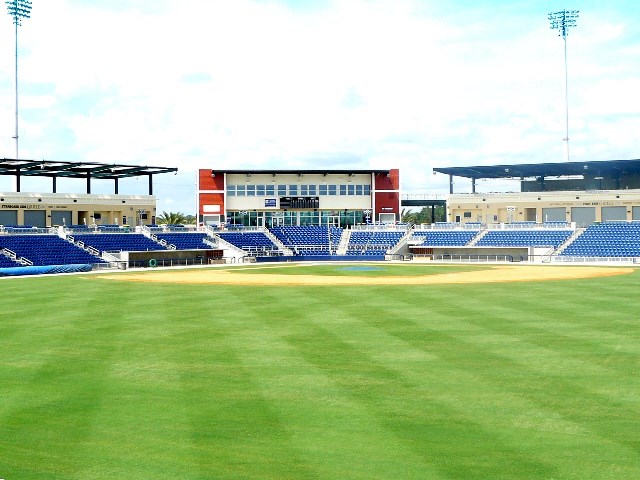 Luckily, the University of West Florida, The Studer Group, and former Mayor Vince Whibbs saw this growth potential and decided to expand on it. After years of planning and approval, they formed what is now Maritime Park and the site of the Blue Wahoo's Stadium.
This site consists of a 3,200-seat "multi-use" stadium. Pensacola finally had a team to cheer for a stadium to cherish, and a new cymbal of the emergence of our great community.
For years this stadium was used for local events, food and beverage festivals, and Pensacola Pelicans games. After 2011, the team made the transition from the Pelicans, to the Pensacola Wahoos. This new team would play in the Southern League and would operate as the Class Double-A affiliate of the Cincinnati Reds Major League Baseball team. Since the transition, the team has become a beloved Pensacola treasure and even managed to win organization of the year following the inaugural season.
UWF has always flirted with the idea of adding their own twist to this beautiful stadium. Well ladies and gentleman, that day has finally come to fruition. Saturday, August 3, 2016 marked the kick off of the inaugural season for the University of West Florida Argos football team.
The team opened up the season with a bang and energized fans hours away in dominating fashion by beating Ave Maria University 45-0 on their home field near Naples FL. This marked the start of an amazing tradition of UWF Football and gave a jolt of energy to this program for the season ahead. Now, just a day away, we countdown the hours until the Argos march into Blue Wahoo's stadium for a sellout crowd. In a typical sell out, Blue Wahoo's Stadium would only hold 5,038 for a baseball game. However, UWF athletic officials said Wednesday, that it in the future it will be expanded to hold 6,238 for football games, with standing room, and temporary bleachers.
The team will face off against Missouri S&T in what is sure to be landmark day for the city and the University of West Florida. Now, in the buildup of the first home game, the team has also managed to gain another huge boost to the program in the form of a 1 million dollar contribution from Pen Air Federal Credit Union. The money will go a long way to spark a budding team and fund any football endeavors they may have. To honor the donation, the turf will bear the name Pen Air Field.
Although the game is sold out, there will multiple options for the avid fan to catch this historical game.
The game will be broadcasted on WPNN 103.7 FM and 790 AM, with a simulcast on Blab TV (WFDB).

A very limited number of tickets do still remain for the final four home games at Blue Wahoo's Stadium. Those tickets can be purchased online at www.goargos.com.

The final four games will also be available on multiple outlets as well. The games will be featured on television or webcast through Blab-TV (three games) or American Sports Network (one game) or ESPN3 (Oct. 22 vs. Shorter).
On Saturday the stadium areas and the surrounding park will open its doors at 12 for tailgating, while the game itself will kick off at 6 PM. Then, just like many Wahoo's games, this game will end with a bang by putting on a water front fireworks show to cap off a monumental night. We hope to see everyone come out there to support the Argos and the next big step for the City of Pensacola!
Realty Masters of FL~ (850) 473-3983
4400 Bayou Blvd. #58B, Pensacola, FL 32503
#1 in Pensacola Rental Houses & Apartments
Follow us on Facebook ~ Pinterest ~ Twitter ~ YouTube
originally posted 09-09-2016
Pet Waste
Home Resolutions
Community Resources
Solar Energy
Pensacola Fall Activities
Rental Assistance
Pensacola Traffic
Hurricane Preparedness
Summer in Pensacola
Comparing Florida Markets
Buying a Home
Buyer Tips
Pensacola Rental Market
Real Estate Sales Market Update
2020 Holiday Events
Florida Treasure Hunt
Fall Bucket List
Property Managers & Evictions
Animal Shelters
COVID-19 rent assistance
Normal Wear and Tear
Market Update
Design Trends
Cleaning at Move Out
Real Estate
Outdoor Fun
Free Credit Reports
Mortgage Forbearance
Grocery Delivery
jobs in Pensacola
Real Estate Investments
Navy Federal Credit Union
renters insurance
legislation
rental scams
Opportunity Zones and Capital Gains Taxes
Maintenance Expenses
October Community Events
HOA Management
Renters Insurance
Hurricane Insurance
Landlords
Community
Mailbox Key
Wear & Tear Versus Damage
Pest Control
Moving Resources
Blue Angels
Rents in Downtown Pensacola
Rent Assistance
Listing your Home for Sale and/or Rent
New Year's Resolutions
Hurricane Michael
Smoke Detectors
Key Safety
Downsizing
Holiday Events
Septic Tanks
Gulf Power Outage Map
Moving Tips
Burning Outdoors
Lawn care
Multi-family
Fall Events
#spotthebear
Safety
HOA
School Grades
Bulk Item Pick Up
Housing Scams
Subleasing
Steps for First Time Home Buyers
20 Year Anniversary
HVAC
House Hunting Tips
Real Estate Market
Seminars and Personal Assistant
Rent or Sell
Pensacola area Zip Codes
Build Credit
New Construction in Pensacola
Energy Tips
How to Find HOA Rules
Preparing for Freeze
Holiday Safety Guide
Maintenance Do's and Dont's
Home Warranties
Credit Score
Roads
Unapproved Dog List
Maintenance Tips
Pensacola Rental Inventory
Home Buying
Tenants
Pensacola Rental Homes
Beulah Middle School Construction
Safety Tips
Things to Do
Realty Masters Team
Item Donations
Pensacola Rental homes
NARPM
Bed Bugs
Moving out
Community Involvement
Managing Rental Properties
rental market
Pensacola Real Estate Market
Baby Boomers
Buying A Home
Waterfront real estate
New Construction
Closing Costs in Real Estate Sales
Senior Housing Communities
first time home buyers
Selling your home
5 Reasons to Clean Up After your Pets
3 Easy New Year Resolutions for your Home
Holiday & Community Resources from Realty Masters
Considerations before Getting Solar Panels in the Pensacola Area
Fall Family Friendly Events in Pensacola!
Nicole St. Aubin
Michelle
Lindsay
Mike Hamby
David Keen
Lindsay Scapecchi
Celia Kafka
Aramis Washington
Erica Parker
MacKenzie Rathbun
Pam Keen Brantley
Rebekah Perkins
Contributing Author
Realty Masters HOA Managers
Chuntell Patterson
Carlin Symmes
Realty Masters
Mitch Adcox
Realty Masters Sales