Pensacola Realty Masters Blog
Realty Masters is happy to present the following Pensacola area community and Pensacola real estate information!
Realty Masters Celebrates our 20 Year Anniversary!
05-15-2019
Nicole St. Aubin
20 Year Anniversary
07-16-2019
20 years ago, Pam Keen Brantley started a small real estate company in an office near Downtown Pensacola. Today, Pam and the Realty Masters family have grown the company to the largest single family property management company in the greater Pensacola area. Thank you for your fearless leadership, late nights, and never ending hustle for our team and clients.
We would like to thank all of our clients and especially our team members, past and present. A special thank you goes out to our veteran team members who have served our clients almost as long as Pam has!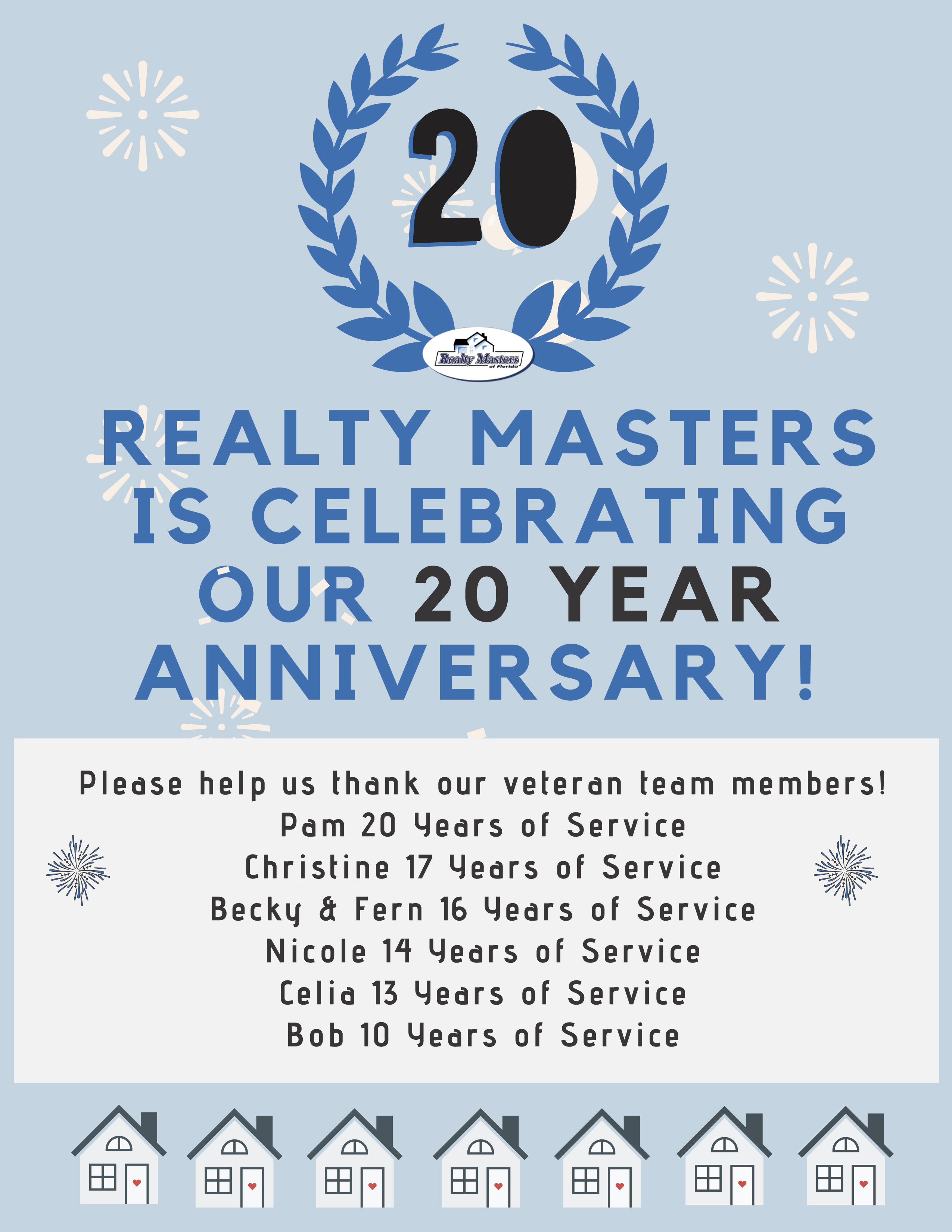 A huge thank you to our clients, some of whom we have for the entire 20 years! We appreciate you so much. We are proud to be the largest property management company in the Pensacola area. Please reach out if we can be of assistanace.
The Realty Masters of FL Team
#1 in Pensacola Property Management and Leasing!
Rental Office 4400 Bayou Blvd. #58B, Pensacola, FL 32503 (850) 473-3983 www.PensacolaRealtyMasters.com
Sales Office 4400 Bayou Blvd. #52B, Pensacola, FL 32503 (850) 453-9220 www.RealtyMastersofFlorida.com
Follow us on Facebook ~ Twitter ~ YouTube
originally posted 05-02-2018
Community Resources
Solar Energy
Pensacola Fall Activities
Rental Assistance
Pensacola Traffic
Hurricane Preparedness
Summer in Pensacola
Comparing Florida Markets
Buying a Home
Buyer Tips
Pensacola Rental Market
Real Estate Sales Market Update
2020 Holiday Events
Florida Treasure Hunt
Fall Bucket List
Property Managers & Evictions
Animal Shelters
COVID-19 rent assistance
Normal Wear and Tear
Market Update
Design Trends
Cleaning at Move Out
Real Estate
Outdoor Fun
Free Credit Reports
Mortgage Forbearance
Grocery Delivery
jobs in Pensacola
Real Estate Investments
Navy Federal Credit Union
renters insurance
legislation
rental scams
Opportunity Zones and Capital Gains Taxes
Maintenance Expenses
October Community Events
HOA Management
Renters Insurance
Hurricane Insurance
Landlords
Community
Mailbox Key
Wear & Tear Versus Damage
Pest Control
Moving Resources
Blue Angels
Rents in Downtown Pensacola
Rent Assistance
Listing your Home for Sale and/or Rent
New Year's Resolutions
Hurricane Michael
Smoke Detectors
Key Safety
Downsizing
Holiday Events
Septic Tanks
Gulf Power Outage Map
Moving Tips
Burning Outdoors
Lawn care
Multi-family
Fall Events
#spotthebear
Safety
HOA
School Grades
Bulk Item Pick Up
Housing Scams
Subleasing
Steps for First Time Home Buyers
20 Year Anniversary
HVAC
House Hunting Tips
Real Estate Market
Seminars and Personal Assistant
Rent or Sell
Pensacola area Zip Codes
Build Credit
New Construction in Pensacola
Energy Tips
How to Find HOA Rules
Preparing for Freeze
Holiday Safety Guide
Maintenance Do's and Dont's
Home Warranties
Credit Score
Roads
Unapproved Dog List
Maintenance Tips
Pensacola Rental Inventory
Home Buying
Tenants
Pensacola Rental Homes
Beulah Middle School Construction
Safety Tips
Things to Do
Realty Masters Team
Item Donations
Pensacola Rental homes
NARPM
Bed Bugs
Moving out
Community Involvement
Managing Rental Properties
rental market
Pensacola Real Estate Market
Baby Boomers
Buying A Home
Waterfront real estate
New Construction
Closing Costs in Real Estate Sales
Senior Housing Communities
first time home buyers
Selling your home
Holiday & Community Resources from Realty Masters
Considerations before Getting Solar Panels in the Pensacola Area
Fall Family Friendly Events in Pensacola!
Our Florida Rental Assistance Grants
Pensacola Traffic and Road Conditions
Nicole St. Aubin
Lindsay
Mike Hamby
David Keen
Lindsay Scapecchi
Celia Kafka
Aramis Washington
Erica Parker
MacKenzie Rathbun
Pam Keen Brantley
Rebekah Perkins
Contributing Author
Realty Masters HOA Managers
Chuntell Patterson
Carlin Symmes
Realty Masters
Mitch Adcox
Realty Masters Sales