Pensacola Realty Masters Blog
Realty Masters is happy to present the following Pensacola area community and Pensacola real estate information!
Taking care of your Septic Tank and Drainfield Lines
05-15-2019
Nicole St. Aubin
Maintenance Tips
07-16-2019
Plumbing issues can be one of a landlord's most troublesome problems!
Whether you have a septic tank or city sewer system, homeowners and landlords alike should respond to repetitive plumbing issues as soon as possible. If you are having issues with water and sewage backing up in your property, there's likely an issue with the main sewer or septic lines on your property.
Just like other items in and around your property, these major plumbing items in your home may eventually need to be replaced.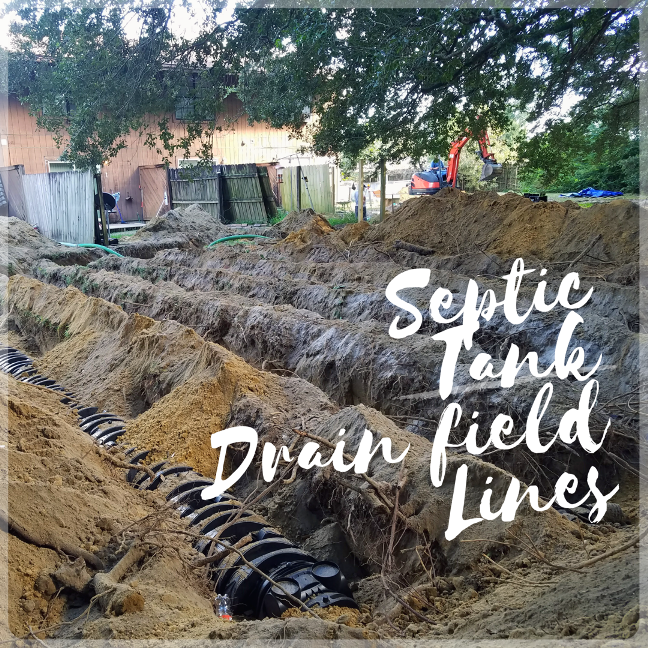 Replacing your sewer lines, septic tank, or drainfield lines are costly repairs! Why? Sewer and septic lines are buried underneath the ground and hard to access. Heavy machinery must be brought in. We recently had an up close look at drain field lines being replaced at a rental in Pensacola.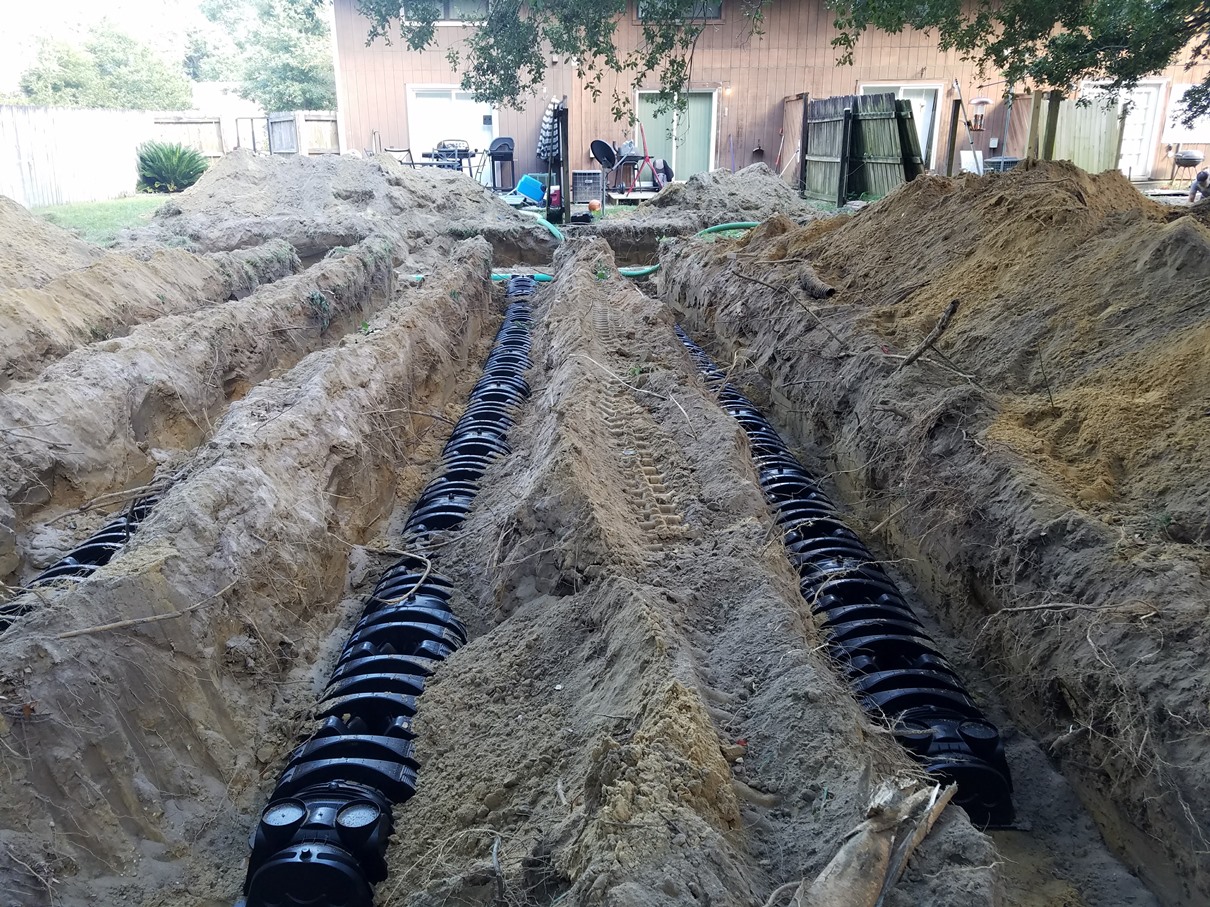 Our friends at Ensley Septic Company in Pensacola helped our property owner to install new drainfield lines in their septic system and a complex of townhomes in Northeast Pensacola. The properties were built in 1984 and had a failing drainfield system that was affecting several of the units in the building.
The residents in this building were having sewage back up into their tubs resulting from failing drain field lines connecting to the septic tank. If you have city sewer and are having these issues, it could be a sign of a clog, growth, or break in your sewer lines.
Common signs of drain septic tank or drain field issues:
Slow draining water at toilets, showers, and sinks
Bubbling noises
Sewage back up
Ways to extend the life of your drainfield lines and septic tanks:
Limit water usage
Decrease the amount of cleaners and bleach you are using
Do not use the dishwasher and washing machine at the same time
Take breaks between loads of laundry
Be cautious not to use too much water after it rains when your lines are still wet
Have your tank pumped every couple of years
It is best not to have a garbage disposal when you have a septic tank
Do not ever flush or introduce the following items into your septic system:
Coffee grounds
Paper towels, handi-wipes
Kitchen greases
Sanitary napikins, tampons, or condoms
Trash
Hair
Small animals or dead fish
Rangs, strings, or floss
Disposable diapers

Often, these issues are exasperated by excessive water usage. If you are experiencing sewer or septic issues, limit excess water usage as much as possible to prolong the life of your sewer or septic system.
Weather can also affect the performance of your sewer or septic system. During and after periods of heavy rain, the ground around your septic system becomes too saturated to absorb your waste water.
Septic Tank Companies in Pensacola we recommend:
Ensley Septic Tank - 850476-9610
Extreme Pumping and Septic, LLC - 850-999-7800
Economy Septic Tank - 850-968-5130
Realty Masters of FL~ (850) 473-3983
4400 Bayou Blvd. #58B, Pensacola, FL 32503
Follow us on Facebook ~ Pinterest ~ Twitter ~ YouTube
#1 in Pensacola Rental Houses
originally posted 05-22-2017
Pet Waste
Home Resolutions
Community Resources
Solar Energy
Pensacola Fall Activities
Rental Assistance
Pensacola Traffic
Hurricane Preparedness
Summer in Pensacola
Comparing Florida Markets
Buying a Home
Buyer Tips
Pensacola Rental Market
Real Estate Sales Market Update
2020 Holiday Events
Florida Treasure Hunt
Fall Bucket List
Property Managers & Evictions
Animal Shelters
COVID-19 rent assistance
Normal Wear and Tear
Market Update
Design Trends
Cleaning at Move Out
Real Estate
Outdoor Fun
Free Credit Reports
Mortgage Forbearance
Grocery Delivery
jobs in Pensacola
Real Estate Investments
Navy Federal Credit Union
renters insurance
legislation
rental scams
Opportunity Zones and Capital Gains Taxes
Maintenance Expenses
October Community Events
HOA Management
Renters Insurance
Hurricane Insurance
Landlords
Community
Mailbox Key
Wear & Tear Versus Damage
Pest Control
Moving Resources
Blue Angels
Rents in Downtown Pensacola
Rent Assistance
Listing your Home for Sale and/or Rent
New Year's Resolutions
Hurricane Michael
Smoke Detectors
Key Safety
Downsizing
Holiday Events
Septic Tanks
Gulf Power Outage Map
Moving Tips
Burning Outdoors
Lawn care
Multi-family
Fall Events
#spotthebear
Safety
HOA
School Grades
Bulk Item Pick Up
Housing Scams
Subleasing
Steps for First Time Home Buyers
20 Year Anniversary
HVAC
House Hunting Tips
Real Estate Market
Seminars and Personal Assistant
Rent or Sell
Pensacola area Zip Codes
Build Credit
New Construction in Pensacola
Energy Tips
How to Find HOA Rules
Preparing for Freeze
Holiday Safety Guide
Maintenance Do's and Dont's
Home Warranties
Credit Score
Roads
Unapproved Dog List
Maintenance Tips
Pensacola Rental Inventory
Home Buying
Tenants
Pensacola Rental Homes
Beulah Middle School Construction
Safety Tips
Things to Do
Realty Masters Team
Item Donations
Pensacola Rental homes
NARPM
Bed Bugs
Moving out
Community Involvement
Managing Rental Properties
rental market
Pensacola Real Estate Market
Baby Boomers
Buying A Home
Waterfront real estate
New Construction
Closing Costs in Real Estate Sales
Senior Housing Communities
first time home buyers
Selling your home
5 Reasons to Clean Up After your Pets
3 Easy New Year Resolutions for your Home
Holiday & Community Resources from Realty Masters
Considerations before Getting Solar Panels in the Pensacola Area
Fall Family Friendly Events in Pensacola!
Nicole St. Aubin
Michelle
Lindsay
Mike Hamby
David Keen
Lindsay Scapecchi
Celia Kafka
Aramis Washington
Erica Parker
MacKenzie Rathbun
Pam Keen Brantley
Rebekah Perkins
Contributing Author
Realty Masters HOA Managers
Chuntell Patterson
Carlin Symmes
Realty Masters
Mitch Adcox
Realty Masters Sales