Pensacola Realty Masters Blog
Realty Masters is happy to present the following Pensacola area community and Pensacola real estate information!
The Florida Property Manager's Role in an Eviction
08-27-2020
Nicole St. Aubin
Owner Education
04-18-2022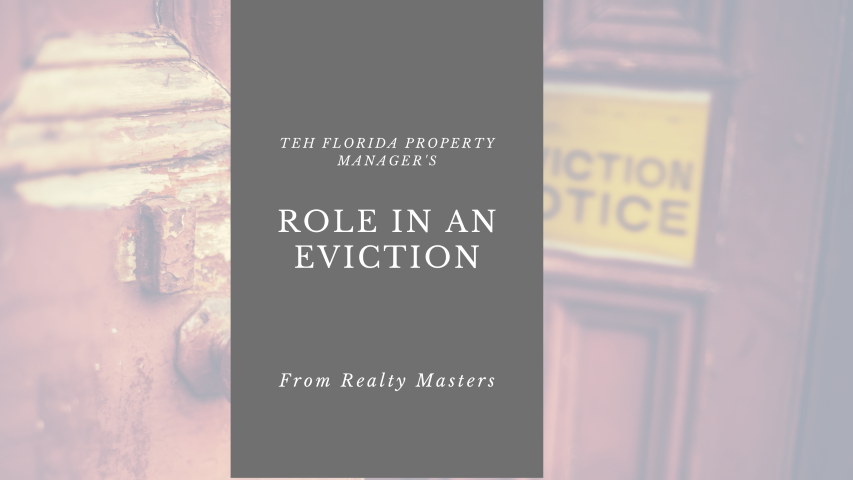 Evictions are a hot topic right now. As many tenants have been delinquent through the COVID-19 pandemic, and the legislation preventing evictions is expiring, many landlords are calling us about evictions.
As your property manager, we handle several aspects of your property management as allowed under our management agreement and Florida law. These roles have us property managers wearing several hats- Realtor, leasing agent, private investigator, maintenance coordinator, bill collector, bookkeeper, interior designer, and the list goes on. One of the roles we cannot assume, is that of a lawyer.
The Florida Supreme Court does allow for Florida property managers to handle evictions for property owners but only in a limited scope and only in certain instances. They give us the authority to:
With the help of our attorney, draft and serve a 3-Day Notice
With the help of our local county court, draft and file a Complaint for Eviction and Motion for Default
With the help of our local Sherriff's Office, obtain a Final Judgment and Writ of Possession
Prepare eviction forms approved by the Florida Supreme Court
Your Florida Property Manager may be able to file and proceed with an eviction if:
The eviction is for non-payment of rent
The eviction is uncontested by the tenant
We have written authorization from the property owner to evict the tenant
Unfortunately, if your tenant fails to move at the end of the lease, an eviction is necessary, but your Florida property manager may not be authorized to file this on your behalf. Additionally, if your tenant violates a lease term and is served a 7-day notice of non-compliance, we can serve the notice, gather the documentation, but cannot file the eviction on your behalf. Additionally, if we know your tenant will contest the eviction and that they have any ground to stand on, we will not be able to file any eviction on behalf of the property owner.
Why? Well, because the Florida Supreme Court does not want Realtors practicing law. Unfortunately, at a certain point, the eviction process can turn into such. This can be frustrating for property owners as the eviction process can be a little intimidating to navigate. The good news is that many owners, with a little guidance, are able to file and carry through the eviction with no problem. It may require an in-person or a conference call hearing. In many instances, hiring an attorney to handle the process is the best choice for many.
Tenant Education
Pensacola Real Estate
Owner Education
Community
Pensacola Community
Real Estate Market
Military PCS Move to Pensacola
New Construction Builders in Pensacola
Considerations when Purchasing a Pensacola Multifamily investment
What Makes a Good Pensacola Investment Property
Buy and Hold Investment Strategy
Nicole St. Aubin
Lindsay
Pam Keen
Nicole
Nicole St Aubin
Erica Parker
Michelle
Mike Hamby
David Keen
Realty Masters
Rebekah
Carlin
Mitch Adcox