Pensacola Realty Masters Blog
Realty Masters is happy to present the following Pensacola area community and Pensacola real estate information!
Tips for Raising Rents While Keeping Tenants
08-29-2019
Nicole St. Aubin
Owner Education
04-21-2022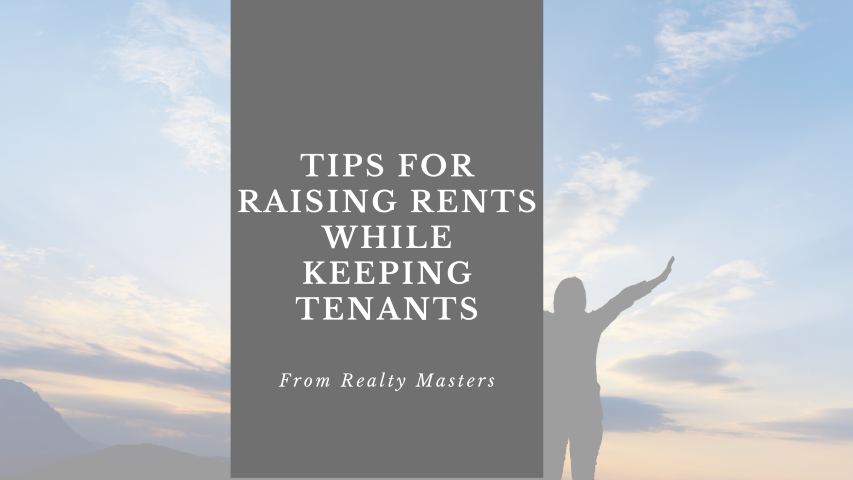 As a landlord, you may sometimes find yourself in undesirable positions. An example of when this can happen is when it's time to renew a tenant's lease, and you are unsure if you should raise the rent. It may have been hard getting a qualified tenant in the home and you want to avoid a vacancy, especially if they have been properly maintaining the home. You may also hesitate to raise the rent because you don't want to risk losing your tenants. But there are many factors that come into play when making this decision. For example, if the maintenance expenses, taxes, or insurance for the investment property have increased you may need to make this raise. Additionally, the rental market has been strong and rents have been rising. It is important to remember that although you want to do well by the tenants and keep your good relationship, you are technically running a business and you need to make a wise decision so you are not losing money and they are not overpaying. So, what do you do?
The way a landlord or property manager delivers the news of a rental increase can have a significant impact on the tenant's reaction. We suggest you begin by making some positive comments and maybe mention how well they have kept the home up. Then you can move on to explain if there has been an increase in your expenses which will need to result in an increase in rent. You must be sure that you allow them enough notice for them to consider the renewal offer and decide whether or not they want to stay and pay the increased rent or vacate at lease expiration. If your expenses haven't really increased and you have great tenants, you may want to keep the rent the same for the renewal and then consider raising it the next time around.
Below are some tips on incentives to help make an increase less scary for your tenants:
1.Offer a small rent reduction for the first month after they renew. This will allow them a little break to help adjust to the new rental rate the next month.
2.Buy them something for their home. As you review the evaluation pictures, you will notice the décor so you can pick something out that they may like- a cute welcome mat, for example. This will offer a nice personal touch.
3.Ask them if there are any suggestions they may have for updates around the house. (this may be a more reasonable offer after they've occupied the property for a couple of years)
4.Send them a thank you note along with a gift card. This will be a big hit because the tenant will be able to buy whatever they like.
5.You can offer a one-time service like lawn clean up, carpet cleaning, or pressure washing.
Please be sure to communicate well with your tenants so everyone has ample time to prepare for the next step, whatever the decision may be. Remember, if your tenant decides to move and you need a quality property management company to help you rent the property, we are here to help, so don't hesitate to contact Realty Masters of FL. You can find more information about our Pensacola property management services here and information for real estate investors here.
Tenant Education
Pensacola Real Estate
Owner Education
Community
Pensacola Community
Real Estate Market
Military PCS Move to Pensacola
New Construction Builders in Pensacola
Considerations when Purchasing a Pensacola Multifamily investment
What Makes a Good Pensacola Investment Property
Buy and Hold Investment Strategy
Nicole St. Aubin
Lindsay
Pam Keen
Nicole
Nicole St Aubin
Erica Parker
Michelle
Mike Hamby
David Keen
Realty Masters
Rebekah
Carlin
Mitch Adcox