Pensacola Realty Masters Blog
Realty Masters is happy to present the following Pensacola area community and Pensacola real estate information!
Most Missed Items At Move Out
07-08-2020
Lindsay
Tenant Education
04-21-2022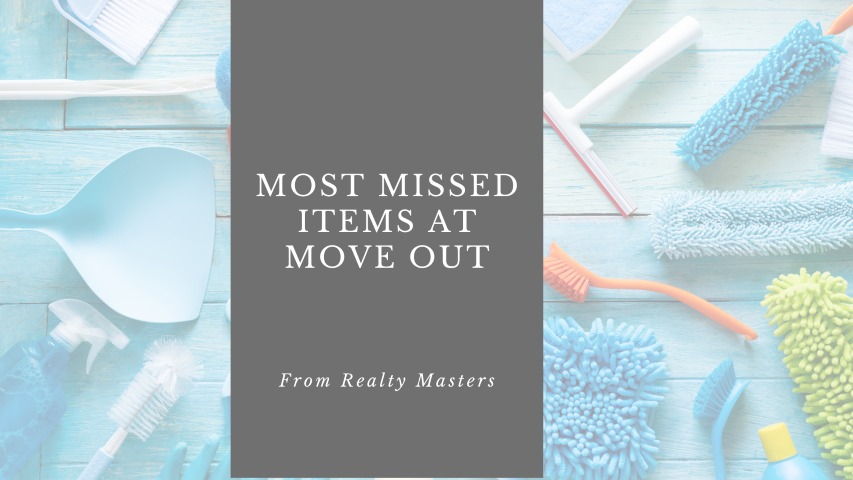 One of the worst things a property manager has to do I to tell a previous tenant their security deposit is getting charges because they did not clean properly upon moving out. We hope this helps you be more prepared for your move out to help insure the full deposit back.
Windows- Window cleaning does not just mean the glass like many seem to think. The window tracks, frame, blinds and sills need to be wiped down and free of dust and grime.
Bathrooms- Bathrooms need to be thoroughly cleaned.

Exhaust Fan- wiped down and free of dust
Toilet- tank, bowl and base scrubbed. (please make sure the water in the bowl is clean)
Tub/Showers- Scrubbed and free of soap scum and mildew.

Baseboards- All baseboards should be wiped down and be free of dust or grime.
Kitchen- This is where the majority of the issues we see are.

Fridge and Freezer- Should be cleaned out with white vinegar including trays, shelves, seal, and handle. It should be pulled out and the floor cleaned behind and underneath. Don't forget the top of the fridge, too.
Stove- Clean thoroughly including the outside, inside, racks, underneath and drawers. The drip pans should be replaced as well.
Cabinets- ALL the cabinets including drawers should be emptied and whipped out free of dust and grime. The outside of the cabinets should be cleaned with a mild soap.

A/C- Change air filter and make sure the door frame in HVAC closet is free of dust.
Yard- Please mow the lawn (if required by lease) prior to moving out. Do not leave any debris laying around the yard. If you have trash left over, you may leave it by the road in accordance to the trash providers requirements. It is your responsibility to be sure it is picked up prior to when you cancel your trash service.
Please note, this is just a list of the items usually missed and is not the full move out cleaning guidelines. You may read those here.
Tenant Education
Pensacola Real Estate
Owner Education
Community
Pensacola Community
Real Estate Market
Military PCS Move to Pensacola
New Construction Builders in Pensacola
Considerations when Purchasing a Pensacola Multifamily investment
What Makes a Good Pensacola Investment Property
Buy and Hold Investment Strategy
Nicole St. Aubin
Lindsay
Pam Keen
Nicole
Nicole St Aubin
Erica Parker
Michelle
Mike Hamby
David Keen
Realty Masters
Rebekah
Carlin
Mitch Adcox